Seadas are the most popular traditional Sardinian dessert.
The shape of seadas may remind you of ravioli – a fresh pasta filled with other ingredients, but they are bigger and sweet but still with a delicious melted cheese inside.
The main ingredients to prepare seadas are: flour, durum wheat flour, lard, fresh cheese that can be sour or mild and either cow or sheep cheese, grated lemon rind and honey or sugar for the topping. Obviously, depending on the area, the recipe varies. The one in this post is a very simplified version of the traditional recipe, which calls for a plain mild cheese, no lard and which is super easy to make at home.
Seadas must be eaten piping hot, while the cheese is still melting and stringy. Pair it with sweet and aromatic white wines such as Malvasia di Bosa, Vernaccia di Oristano or a Moscato. If you prefer a red wine, opt for an Anghelu Ruju.
Tips To Make Seadas
Use the right kind of cheese
The best kind of cheese to make seadas is a mild pecorino cheese. Here in Sardinia we also use dolce sardo cheese, which is a very mild cow cheese. By all means, don't use cream cheese. It just doesn't melt and cooks very differently from mild pecorino or dolce sardo cheese. If you are stuck for substitutes, you may want to try a low moisture mozzarella cheese. The taste won't be exactly the same, but it's worth trying.
Use either sugar or honey
Good quality honey adds the perfect, final touch to a good seada. But if you don't have any or don't like the taste, you can use icing sugar instead.
Interesting Facts About Seadas
Origins of the name
As Sardinian is a language with many dialects, Seada takes different names in different parts of the island: Sebada, Sevada or Seada, as we call it in Cagliari. Seada is singular and Seadas plural.
There are several theories related to its name: some believe it comes from 'sebu/seu' that is an animal fat like lard because of the glossiness of the sweet once covered with honey; others from 'asseare' that means 'becoming sour' and which refers to the kind of cheese that is used for the filling – which, in certain parts of Sardinia, may even be sour; and last to 'cebada,' which is the cereal that was used for the dough.
Origins of the dish
This dessert is typical of pastoral tradition, in fact shepherds used the cheese they produced from their cattle for the filling. It was thought to be a poor dish, for it used simple and easy-to-find ingredients like flour and cheese.
Seadas originate from the mountains of northern Ogliastra, and Barbagia, in particular between the villages of Dorgali and Urzulei. As shepherds tend to move around quite a bit, the dessert became common on the entire island.
Originally they were a main course and not a dessert: women used to cook them to celebrate special occasions, such as the return of their husbands after long periods in the fields. They were savory and bigger because they had to feed the hungry shepherds after they had been away for a long time. Over the years seadas became a dessert with honey topping and their size was reduced.
Yield: 6
How To Make Seadas - Sardinian Cheese And Honey Pastries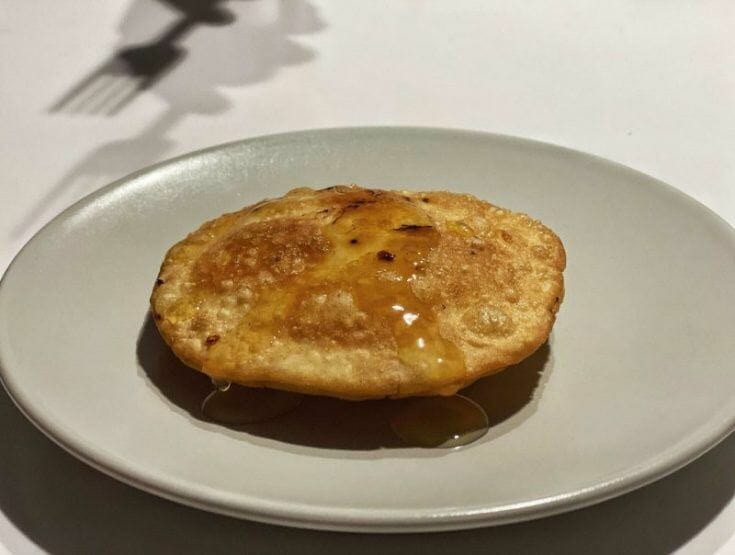 An easy to follow recipe for the most popular Sardinian dessert
Ingredients
For the dough
2 and 3/4 cups (400 grams) of all purpose flour
1 cup (250 milliliters) of warm water
A pinch of salt
For the filling
2 and 1/5 cups (250 grams) of Dolce Sardo cheese or another kind of mild, fresh pecorino cheese
The grated grind of an organic, unwaxed lemon
For frying
1.5 to 2 cups (300 to 500 milliliters) of sunflower oil
For the topping
Good quality honey, to taste
Instructions
STEP 1 - PREPARE THE DOUGH
Put in a bowl both types of flour but leave some aside to knead and roll out the dough.
Dissolve a pinch of salt in warm water.
Gradually add the salty water to the flour and knead continuously.
Take the dough out of the bowl and knead well with both hands. Work energetically until a smooth and lump-free dough is obtained.
Let the dough rest, meantime start chopping the cheese and grating the lemons.
STEP 2 - PREPARE THE FILLING
Chop the cheese in small pieces (no bigger than 3 millimeters).
Grate the grind of one organic lemon.
STEP 3 – PREPARE THE SEADAS
Roll out the dough into thin sheets (around 2 mm of thickness) and with a pastry cutter or a glass cut out at least 12 disks of 10/12 centimeters.
Put in the center of each disk some chopped cheese - about the size of an apricot (leave 1 centimeter free to close the seada).
Sprinkle lemon grind on top of the cheese.
Take one disc of dough and place it exactly on top of the layered one so that the edges match. With your fingertips, apply a light pressure to join the edges of the two discs.
With the pressure of your fingers seal the edges well so that they do not open during cooking. Follow these steps to make all the seadas. You should be able to make at least 6 seadas with these amounts.
STEP 4 - FRY THE SEADAS
Put enough good quality sunflower oil in a frying pan and heat it up. until it reaches 165 degrees Celsius, then place a seadas.
Flip it over after a short while to make sure it cooks evenly.
Use a spoon to bring the oil to the center of the seadas so that the filling is properly cooked.
Once the seada is golden, drain it and place it on the sheet of absorbing paper.
Drop a good spoonful of honey (or if you prefer some sugar) on the seadas and serve piping hot.
Notes
Seadas should be fried and eaten fresh, before the dough dries out, within one to two days of making them.
Nutrition Information:
Yield:
6
Serving Size:
1
Amount Per Serving:
Calories:

1015
Total Fat:

93g
Saturated Fat:

16g
Trans Fat:

0g
Unsaturated Fat:

73g
Cholesterol:

46mg
Sodium:

364mg
Carbohydrates:

32g
Fiber:

2g
Sugar:

3g
Protein:

16g
Where To Eat Seadas In Sardinia
You can easily eat seadas in most restaurants around Sardinia, they are so popular that locals and tourists request them regularly. But obviously they are better when freshly made.
Having said so, here is a selection of restaurants where you can taste them.
SASEADA – Sebaderia Artigianale (Cagliari) – located in Via Portoscalas, next to Corso Vittorio Emanuele, this restaurant offers seadas both in a traditional and in an innovative way, with different kinds of dough.
RISTORANTE SANTA MARIA (Santa Maria Navarrese) – Fancy trying a savory Seada? Then go for this delicious one with a pecorino cheese filling and a topping of sweet pepper cream.
LA PINETA (Arzana) – In Ogliastra, in the village of Arzana, taste all the different types of seadas in this nice restaurant.
ARAXI E MARI (Castiadas) – Just outside Costa Rei this traditional restaurant serves lots of traditional staples, including seadas.
SA MANDRA (Alghero) – This place, next to Fertilia, is more than a restaurant: in fact it is an open-air museum. Book a table and have a look around, I have no doubt that you will love the traditional food.
AGRITURISMO LA KUSTERA (Arzachena) – With a sampling menu you will do a tasting tour of our traditional dishes, from the starters, following with our suckling pig and finishing with a delicious seada.
SAPORES ANTIGOS (Pozzo San Nicola) – On your way to Stintino, stop at Pozzo San Nicola, a small bakery that makes delicious Seadas.
CERICA DOLCI DI CASA MIA (San Teodoro) – If you want to try the best Seadas in San Teodoro, go to this bakery: they are freshly done every day.
Further Readings
For more readings about Sardinian food and wine, check out these posts:
This post was written by Strictly Sardinia contributor Elisabetta Tavani.
Pin It For Later!