Also known as prazzira or pani cun tammatta or even pani cun tamatiga (literally "bread and tomatoes"), su mustazzeddu is a dish that is typical of the Sulcis region of Sardinia, as well as of the area of San Vito – the name varies depending on where the dish is made, but the main ingredients and preparation remain the same.
According to legend, this Sardinian pizza (because it really does resemble a pizza) was invented by nuns who, in times when food was scarce, created a dish that only called for a few basic, simple and cheap ingredients but which was at the same time full of flavor.
Use top quality ingredients such as Cappelli durum wheat flour (from the name of an Abruzzi senator, Raffaele Cappelli, who thought to distinguish between soft and hard wheat) 2sand the final result will be a fragrant, mouthwatering comfort dish.
Curious to discover the taste of su mustazzeddu / prazzira and want to try to make it at home? I have great news for you! This dish is incredibly easy to make, not to mention very budget friendly, and you won't have troubles sourcing the ingredients. Here's an easy recipe to follow.
How To Make Su Mustazzeddu / Prazzira
Use large vine tomatoes
The best tomatoes for this recipe are large vine tomatoes. Whatever kind you wish to use, make sure you pick ones that are nice and ripe and only prepare them right before using them, or else they will release too much water.
Add other vegetables if you wish
n San Vito, locals love adding eggplants and other vegetables – just take your pick with whatever is in season.
Don't add too much yeast
You may want to use a bit more yeast to make the dough rise a bit faster. However, I don't really recommend it. Allowing plenty of time for the dough to grow naturally will ensure it is light, fluffy yet crispy and easier to digest.
Store it in the fridge
You certainly can! The dish can be easily stored in the fridge for a day or two. You can eat it at room temperature (just take it out of the fridge a while before serving) or, if you prefer, warm it up in the oven or microwave before serving it.
Yield: 10
An Easy Recipe For Su Mustazzeddu / Prazzira
A very easy recipe to prepare su mustazzeddu or prazzira.
Prep Time
1 hour
30 minutes
Total Time
1 day
2 hours
15 minutes
Ingredients
6 and 3/8 cups of (800 grams) of type 0 flour (pizza flour)
1 cup (200 grams) of durum wheat semolina
3/4 cup (200 grams) of sourdough starter or 2 teaspoons (7 grams) of brewer's yeast
2 and 3/4 cups (650 ml) of water
5 teaspoons (30 grams) of salt
3.3 pounds (1.5 kg) of ripe tomatoes
5 garlic cloves
1 bunch of basil
2 tablespoons extra virgin olive oil
Instructions
START PREPARING THE DOUGH
Start preparing the dough a day in advance. Melt the sourdough starter or the brewer's yeast in about 1/3 of the water.
MIX THE DRY INGREDIENTS WITH THE SOURDOUGH
Add the yeast mixture to the dry ingredients - flour, durum wheat semolina and salt.
WORK THE DOUGH
Work the dough for about 10 to 15 minutes, slowly adding the remaining water.
CONTINUE WORKING THE DOUGH
Continue working the dough even until smooth, even if it feels sticky.
Let the dough rest, covered, and do three rounds of folds - one every 20 minutes, as shown in this video.
LET THE DOUGH REST
Once the dough is ready, place it in a large bowl, cover it and put it in the fridge overnight.
PREPARE THE TOMATOES
After one night, take the dough out of the fridge and let it rest at room temperature for one hour.
Meantime, prepare the tomatoes: wash them and cut them in slices of about 1/4 of an inch.
Chop the garlic in small pieces.
DRAIN THE TOMATOES
Place the tomatoes in a colander with the garlic, some salt and basil so that they lose some of their water.
FORM SMALL BALLS OF DOUGH
Split the dough in about 10 small balls and let it rise for 90 minutes up to 2 hours.
STRETCH THE DOUGH
Stretch the dough on a previously greased tray.
ADD THE TOMATOES
Add some extra virgin olive oil to the tomatoes, garlic and basil mix, stir and place at the center of the dough.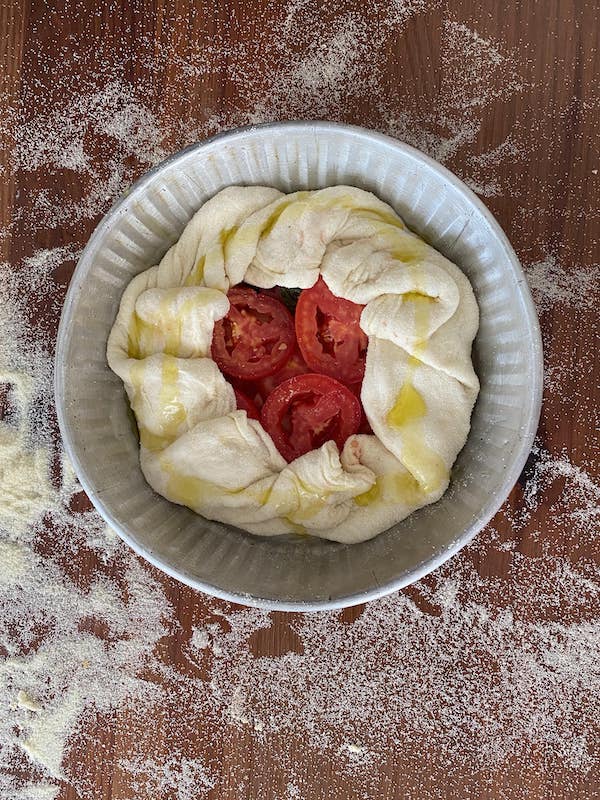 SEAL THE DOUGH
Seal the dough towards the center, adding some extra virgin olive oil around the edges too.
BAKE
Bake at 392°F (200°C) for 30 to 40 minutes.
Notes
Let the mustazzeddu rest for about 2 or 3 minutes before serving.
Nutrition Information:
Yield:
10
Serving Size:
1
Amount Per Serving:
Calories:

507
Total Fat:

4.6g
Saturated Fat:

0.7g
Trans Fat:

0g
Unsaturated Fat:

3.3g
Cholesterol:

0mg
Sodium:

11mg
Carbohydrates:

101g
Fiber:

7.8g
Sugar:

4.3g
Protein:

16g
Where To Eas Su Mustazzeddu In Sardinia?
This is a dish that Sardinians normally eat at home; however, should you wish to try it during your trip to Sardinia you may want to look for it at the best local agriturismi. In Cagliari, you can try it at Sa Domu Sarda, in the historic center.
For the best experience, you should attend San Vito's Sagra de sa prazzira e de sa pezz'e craba (Sa Prazzira and Sa Prazzira of sheep's meat festival) which takes place each year at the very end of July.
Further Readings
For more recipes, make sure to check the following posts:
Pin It For Later!