Su Mazzamurru, AKA Sardinian bread and tomato lasagne, is an incredibly easy and actually budget friendly dish to prepare – and one of the tastiest dishes of Sardinian cuisine. It's a great way to use leftover ingredients such as bread and tomato sauce, but just as nice to make it from scratch – as long as you use stale bread.
The recipe to prepare su mazzamurru is incredibly easy: you pour hot beef or vegetable broth on the bread and pour over it an abundant dose of freshly prepared tomato sauce and grated pecorino cheese, and then grill it in the oven. If you pick good quality ingredients, you are guaranteed an excellent, comforting, extremely tasty dish.
Here, I share a very simple recipe, with easily found, high quality ingredients. Keep in mind that although the traditional version calls for a beef or sheep broth, my recipe calls for a lighter, healthier and easier to prepare vegetable broth.
A Brief History Of Su Mazzamurru
Mazzamurru was commonly eaten on board of boats in the past. In fact, the word "mazzamurro" described a special kind of bread that was prepared and eaten during long boat trips, as it was more easily preserved. The bread – which was baked up to a month before departure – was baked twice or even four times to preserve it better. The leftover pieces of the bread, once stale, were used to prepare a soup by adding broth and tomato sauce to it.
Sardinian varieties of mazzamurro include mazzamurru, commonly used in the area of Sassari; matzamurru in the Logudoro dialect of Sardinian; mattamurru, mattemurru, mattimurru in the mountainous region of Sardinia; and matzamurru in the region of Campidano.
Once commonly eaten throughout the island, su mazzamurru is now mostly found in the region of Campidano.
Typically made with leftover civraxiu bread – a Sardinian bread made with durum wheat semolina – you can make it with any kind of bread, as long as it is stale. You probably want to opt for something like sourdough, which would be the one that most closely resembles civraxiu.
Yield: 6
How To Make Su Mazzamurru: Sardinian Bread And Tomato Lasagne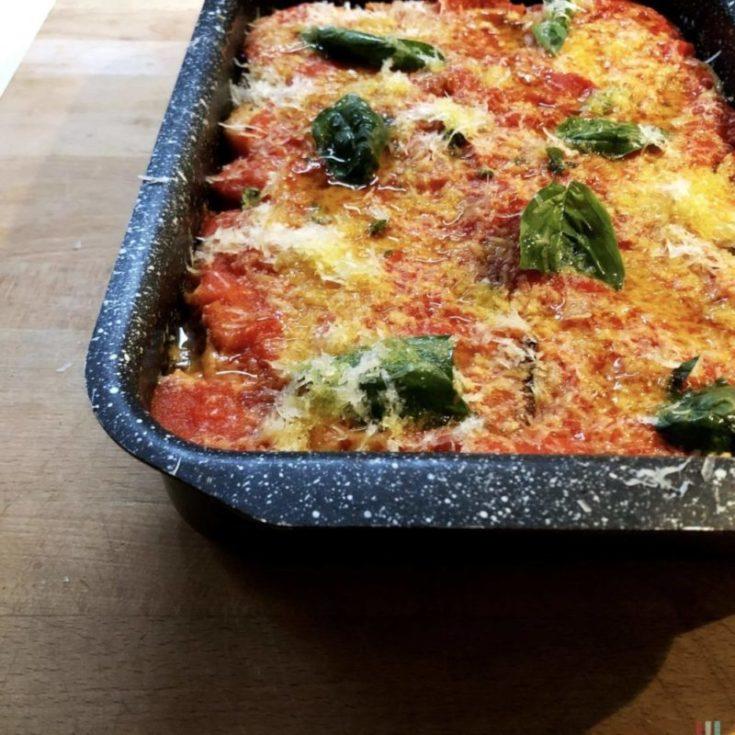 A very easy recipe for Su Mazzamurru - Sardinian bread and tomato lasagne - for a nutritious dish that uses leftover bread and just a handful of other ingredients.
Additional Time
10 minutes
Total Time
1 hour
30 minutes
Ingredients
1.1 pound (500 grams) stale sourdough bread
For the sauce
3.5 cups (800 grams) of tomato passata
1 medium size onion
2 tablespoons of extra virgin olive oil
20 basil leaves
Salt
For the vegetable broth
1 celery stick
1 carrot
1 onion
8.5 cups (2 liters) of water
Parsley and / or bay leaves
For the final dish
3.5 cups (300 grams) of grated medium-aged pecorino cheese
Black pepper
Instructions
STEP 1 - PREPARE THE BROTH
In a large pot, boil about 2 liters of water with a stick of celery, one carrot and an onion, halved.
Let the broth simmer for about one hour, and once ready add a bit of salt and some herbs such as parsley or a bay leaf.
STEP 2 - PREPARE THE SAUCE
Finely chop a medium size onion and lightly fry it in a bit of extra virgin olive oil.
Add the tomato passata and stir.
Add a pinch of salt.
Let the sauce cook for about 45 minutes at moderate heat, stirring occasionally.
STEP 3 - SOFTEN THE BREAD
Set aside the bread and pour some of the broth over it - enough to properly soften it. Let it soak for about 2 or 3 minutes.
STEP 4 - PREPARE SU MAZZAMURRU
In a baking tray, pour some of the tomato sauce and grated pecorino cheese, and a couple of leaves of basil.
Add the softened bread.
Cover the bread with sauce, grated pecorino cheese and some basil leaves.
Make 2 or 3 layers.
On the top layer, add abundant sauce, grated pecorino and basil, and a bit of extra-virgin olive oil.
Bake in a preheated oven at about 180° C (around 360° F) for about 20 minutes.
Notes
Once you take su mazzamurru out of the oven, let it rest for about 10 minutes before serving.
Nutrition Information:
Yield:
6
Serving Size:
1
Amount Per Serving:
Calories:

503
Total Fat:

20g
Saturated Fat:

10g
Trans Fat:

0g
Unsaturated Fat:

9g
Cholesterol:

52mg
Sodium:

1346mg
Carbohydrates:

55g
Fiber:

4g
Sugar:

10g
Protein:

27g
Where To Eat Su Mazzamurru In Sardinia
Su Mazzamurru is the kind of dish we Sardinians typically enjoy at home. You may occasionally find it in some very traditional restaurants or agriturismo. My tip if you want to enjoy it during your trip to Sardinia is to call the restaurant ahead of time and make a special request for it.
The following restaurants are known to occasionally serve su mazzamurru:
OSTERIA SU FILINDEU – Located in Corso Vittorio Emanuele II, in the heart of Cagliari, this is an easy going trattoria focusing mainly on Italian classic fare where the chef occasionally prepares a good bread and tomato lasagne.
SA PIOLA – A lovely small restaurant tucked away in a hidden alley in Cagliari, it mainly focuses on classic fish and seafood dishes but every now and then serves mazzamurru.
I PRINCIPI DI DAN – In the heart of La Marina district of Cagliari, this restaurant has a strong focus on traditional Sardinian food. It serves staple dishes and has a very good selection of local wines.
Further Readings
For more Sardinian recipes, check out the following posts:
Pin It For Later!