Sa Panada (simply called Panada in Italian or English) is one of the tastiest and most comforting Sardinian dishes.
Known across the island, the most popular versions of Sa Panada are those from Assemini, a small town in the metropolitan area of Cagliari known to be the "capital of Sa Panada," Cuglieri, located on the west coast of Sardinia, and Oschiri, in the north. However, many other smaller villages have their own (and just as tasty) recipe. Among them, there are Elmas, Uta and Capoterra (which all neighbor with Assemini); Ozieri, Pattada, Thiesi and Berchidda, which are all near Oschiri; and Pula and Villacidro.
Here, I share my own simplified recipe of Sa Panada, prepared with ingredients that are easily found in all grocery stores.
Interesting Facts
Origins of the name
The name "panada" comes from the Latin "panem" and refers to all those dishes which were already known in Roman times and which spread across Europe, Africa and Asia, where ingredients such as meat, olives and (once they made their way to this side of the world from the new continent) potatoes (among others) were wrapped in a bread-like dough.
Is Panada the same as Empanadas?
The concept of the dish is similar to that of empanadas which are commonly found in South American countries such as Peru and Argentina. The version that is most similar to the Sardinian Panada is however the Panada Mallorquina, found in Mallorca and in the other Balearic Islands.
What are the main characteristics?
Sa Panada is a savory pie characterized by the presence of "pasta violata" – a dough typically prepared with durum wheat flour and lard (known as "croxu" in Sardinian language) – and filled with a variety of ingredients – typically meat (can be lamb or pork) and potatoes.
However, the most traditional version is the one from Assemini where it is stuffed with eels, which locals could easily source in the nearby Santa Gilla lagoon. The most common version, on the other hand, is stuffed with lamb (and at times pork or chicken). Other ingredients that are found across all variations are potatoes, sundried tomatoes, parsley and garlic.
Is there such a thing as a vegetarian version?
Traditional panada calls for lard in its dough, but there is a vegetarian version that doesn't contain lard and which is stuffed with just vegetables – typically artichokes, which in Sardinia are smaller and more tender compared to others found elsewhere; eggplant and bell peppers, along with potatoes, parsley and garlic.
Is it a main course?
Sa Panada is typically a main course – and it's actually very filling. In recent years though smaller versions have become more common, and you can find "sa panadedda" served as an aperitif along other finger food.
How To Make Sa Panada
Cook it for 90 minutes
90 minutes of baking seems a lot, but the panada should not burn. My advice is to check the panada every now and then, anyways.
Don't use beef for the filling
Beef has a much stronger flavor compared to chicken. Keep in mind that traditional panada is made with either lamb or eel, and chicken is already a substitution for a lighter / healthier dish. Pork may be a good substitute, but keep in mind the meat tends to cook slower and gets drier compared to chicken, so you may need to add more olive oil.
There's no need for salt
Sardinian sun-dried tomatoes are kept in salt, not oil, so they are salty enough to flavor the chicken and the potatoes. If the only sun-dried tomatoes you can find are in olive oil, you may need to add some salt instead.
Vegetarian panada is a thing
The best vegetables to use for a vegetarian panada are eggplant, zucchini and bell peppers, if you like them, but all vegetables are good! You can even put sweet peas for extra protein. My aunt even added some mild cheese inside, so it turned even yummier.
You can freeze your panada once it's baked
When you are ready to eat it, take it out of the freezer the night before you wish to eat it, and warm it up in the over for about 30 minutes.
Prefer extra virgin olive oil
If you are out of olive oil, go ahead and use vegetable oil for the filling of your panada – but the flavor won't be nearly as wholesome. Coconut oil is definitely a no-no!
Likewise, you should use lard or olive oil for the dough. You may want to try using vegetable or sunflower oil instead if you are out of olive oil. Definitely don't use butter or margarine!
Now, finally, let's discover how to make panada at home!
Yield: 6
How To Make Sa Panada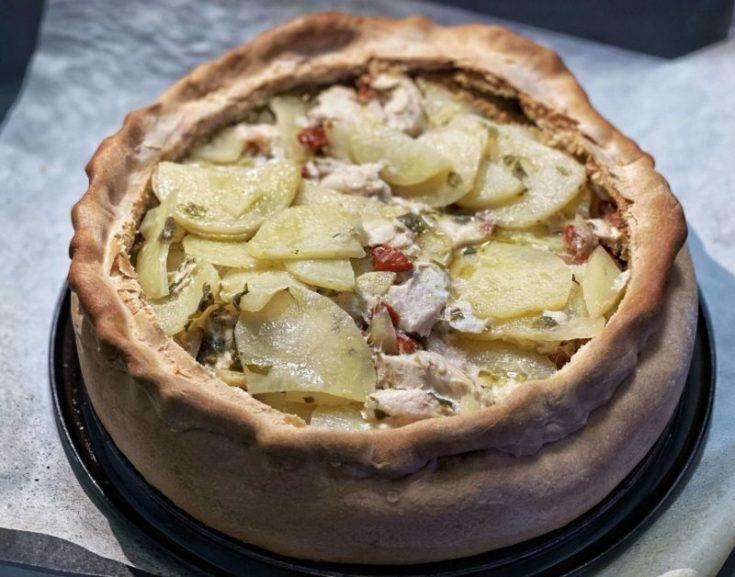 An easy to follow recipe to prepare Sa Panada, Sardinia's most comforting food.
Cook Time
1 hour
30 minutes
Additional Time
10 minutes
Total Time
2 hours
40 minutes
Ingredients
For the dough
6 cups (750 grams) of all purpose flour
1 and 1/2 to 2 cups (350 to 450 milliliters) of warm water
4 tablespoons of extra virgin olive oil
A pinch of salt
For the filling
1.7 pounds (750 grams) of chicken breast
2 large (750 grams) baking potatoes
1/4 clove of garlic
6 sun-dried tomatoes, preferably not in oil.
Parsley
4 tablespoons of extra virgin olive oil
Instructions
STEP 1 - PREPARE THE DOUGH
Put in a bowl the flour but leave some aside to knead and roll out the dough.
Add the olive oil.
Dissolve a pinch of salt in warm water.
Gradually add the salty water to the flour and knead continuously.
Take the dough out of the bowl and knead well with both hands. Work energetically until a smooth and lump-free dough is obtained.
Let the dough rest for 30 minutes, covering it with a kitchen cloth; meantime start chopping the ingredients for the filling.
STEP 2 - PREPARE THE INGREDIENTS FOR THE FILLING
Chop the whole chicken breast into small pieces.
Peel the potatoes, rinse them and cut them in half, then cut them into thin (about 2 to 3 mm) slices.
Slice the sun-dried tomatoes.
Finely chop the garlic.
Rinse the parsley and chop it finely.
STEP 3 - PUT THE FILLING TOGETHER
In a large bowl, mix all the ingredients for the filling, adding abundant olive oil.
STEP 4 - PREPARE SA PANADA
Roll out the dough into a thin sheet of about 2 to 3 mm.
Lay the dough in a previously greased (with olive oil) baking tray of 26 cm diameter, carefully making sure it adheres to the walls.
Place the stuffing inside the panada dough, spreading it evenly.
Make sure to leave enough dough to seal the panada, and cut the excess.
Roll out the remaining dough and then use it to cover the panada, making sure the edges match.
With your fingertips, apply a light pressure to join the edges of the two discs, by gently pinching them. This is done to make sure the panada doesn't open during cooking.

STEP 5 - BAKE SA PANADA
Place the sealed panada in the previously heated oven at 200° C - around 400° F.
Bake for 90 to 105 minutes.
Notes
Don't poke the panada while it's baking: you don't want any of the juices to spill out!
Serve sa panada piping hot, as soon as it's out of the oven,
To serve the panada, slice the top layer and serve its filling before chopping the crust.
Nutrition Information:
Yield:
6
Serving Size:
1
Amount Per Serving:
Calories:

1044
Total Fat:

24g
Saturated Fat:

4g
Trans Fat:

0g
Unsaturated Fat:

18g
Cholesterol:

106mg
Sodium:

141mg
Carbohydrates:

144g
Fiber:

8g
Sugar:

2g
Protein:

59g
Where To Eat Sa Panada In Cagliari And Surroundings
We don't usually go out to eat Sa Panada in Sardinia – it usually is something we prepare at home, on special occasions.
Having said so, here are a few places where you can taste (or buy) a good Panada.
LA MAISON DES DELICES, ASSEMINI – Probably the best place to have Panada in Sardinia, La Maison des Delices is a lovely bakery located in Assemini, an easy 10 minutes car ride from Cagliari. You can eat your Panada there, or take it home with you. And while there, you may also want to take advantage of all the other delicious sweets.
SA PANADA, CAGLIARI – Located in Cagliari's La Marina historic district, this is a popular aperitif and dinner place among locals. You can pick one of the many set menus, each of each includes a selection of Sardinian specialties. The Panada you will get here is usually the small one. You can select between the vegetarian one and the meat one.
TACCAS, CAGLIARI – Another nice place in the heart of Cagliari, Taccas is the perfect place to enjoy local products while sipping a glass of good Sardinian wine.
I CHERCHI, CAGLIARI AND MONSERRATO – There are three different locations of this shop with adjoint restaurant where you can taste various traditional dishes, each of them prepared with locally sourced ingredients.
GOOD TO KNOW: Assemini runs a yearly Festival of Sa Panada.
Further Readings
If you want to prepare a Sardinian feast, check out my other posts:
Pin It For Later!