Is Sardinia expensive? This is one of the most frequent questions that people who are considering a trip to the island ask me.
This beautiful Mediterranean island, blessed with stunning beaches, beautiful nature, unique archeological sites and charming cities and small towns has a reputation for being a destination for the rich and famous, the kind of place where you'll blow your budget.
But is Sardinia expensive, really? Well let me tell you: I live here, I have traveled far and wide across Italy and the rest of the world, and I hereby confirm that Sardinia is no more no less expensive than many other places you may end up visiting.
On the contrary, Sardinia is cheaper than most other regions in Italy – the wages here are lower than in most of the country and as a result the costs of living here are lower. It's much cheaper to visit and live than other European and international destinations – think the UK, Scandinavia, but even the US or Canada. But it surely is more expensive than many destinations in South East Asia – ie Vietnam or Cambodia.
Needless to say, the final cost of your trip to Sardinia depends on what you do, when you visit and quite inevitably on the places you visit – it's a known fact that glitzy Costa Smeralda is an expensive destination.
In this post, I will answer the most important question you may ask before planning a trip to this gorgeous holiday destination: Is Sardinia expensive? And I will do so from the perspective of a local as well as that of an experienced traveler.
Is Sardinia Expensive?
For decades now Sardinia has had the reputation of being a terribly expensive place for the summer holidays. Images of movie stars enjoying glasses of champagne on their massive boats right off Costa Smeralda have contributed to spreading the message that Sardinia is a VIP destination, and if you want to visit you'd may as well ask for a loan, or even sell a kidney.
Yet, if you give Sardinia a chance and if you avoid the very few places on the island that really have little to do with the local culture, history and way of life (this is where I'll stop, or I may become too political) you will see that it really isn't nearly as expensive as you'd think – certainly no more than other destinations in Italy such as Rome or Venice.
To better answer your question, "Is Sardinia expensive?" I thought I'd focus on three main topics – one on small expenses you may incur when in Sardinia; one on the costs of traveling to Sardinia; and one on the costs of actually living in Sardinia.
What things cost in Sardinia
Here a quick overview of what things cost on the island. Remember, Sardinia is part of Italy, one of the most expensive countries in the European Union! But is Sardinia expensive?
Let me break down some of the expenses you may incur when visiting Sardinia
BOTTLE OF BEER – A bottle of Ichnusa – Sardinia's favorite beer – at a bar costs between €2 and €4, depending on the location. Craft beer is obviously more expensive – expect to pay up to €7 per bottle.
For more about local craft beer, check out my post The 19 Best Places For Sardinian Beer.
GLASS OF WINE – The price of a glass of wine really depends on the location and on the wine you pick. A glass of good red – for example Cannonau or Carignano – usually costs €4 to €5; a Prosecco is about the same price. If you have a glass of Argiolas Turriga (one of the best Sardinian wines) you can expect to pay up to €15. 
Check out my post 11 Best Wine Bars In Cagliari.
COCKTAIL – Again, the price of a cocktail in Sardinia often depends on the location, as well as the drink you actually want to drink. Expect to pay €4 for a spritz, and up to €7 for a good mojito in one of the best bars in Cagliari.
Make sure to read my post Cagliari Nightlife: A Guide To Cagliari Best Bars.
PIZZA AT A LOCAL RESTAURANT – Expect to pay between €4.50 and €17 for a pizza, depending on the toppings and the location. 
Read my post Where To Find The Best Pizza In Cagliari.
TAKEAWAY PIZZA – Between €4 and €8 depending on the toppings. If you order delivery, you will have to cover the costs of the delivery too.
COST OF A MEAL AT A TRATTORIA – Trattorie are the most budget friendly kind of restaurants in Italy, offering good, honest food at reasonable prices. A good trattoria in Cagliari will dish out a earthy meal for anything between €25 and €28 euro
MEAL AT A FANCY RESTAURANT – Between €45 and €60, depending on what you get (fixed menus are usually cheaper).
BUS TICKET – €1.50 for a one hour ride (bus changes allowed).
SCOOP OF GELATO – €1.50 at a good gelateria.
COFFEE – €1, more expensive if you sit at the table, and after a certain time in the day.
TAXI RIDE TO THE AIRPORT – Fixed price. In Cagliari it is €17 during the day, and €20 at night.
BEACH UMBRELLA + 2 SUNBEDS RENTAL – €15 for the day on average; prices vary depending on the location and the season.
ADMISSION TICKET TO A SITE – From a couple of Euro up to €14 for the most expensive sites, but that includes a guided tour.
Is Sardinia expensive to visit?
Often overlooked for other better known places, Sardinia is easy and inexpensive to fly to (especially if you book in advance) and has a lot to offer to visitors. Many Sardinians heavily rely on tourism for an income, so prices can be quite competitive and services really good.
Check out my post How To Get To Sardinia: Routes From Italy And Europe for more information on airlines flying to the island.
However, let me be clear: while Sardinia isn't the most expensive place to visit, you want to be realistic. You can't expect to visit the island on a €5 per day budget – that simply won't happen, and not even if you travel in the off season and only stick to local places.
Go to Costa Smeralda, one of the top tourist destinations on the island, during peak season, and you may pay €7 just for "coperto" – the cover charge you pay just for the simple act of sitting at a table (and which is never more than €3) and an espresso is €4.
Having said so, if you manage to stick to a very low budget and are very strict with your expenses, you could visit Sardinia on €50 to €80 per day.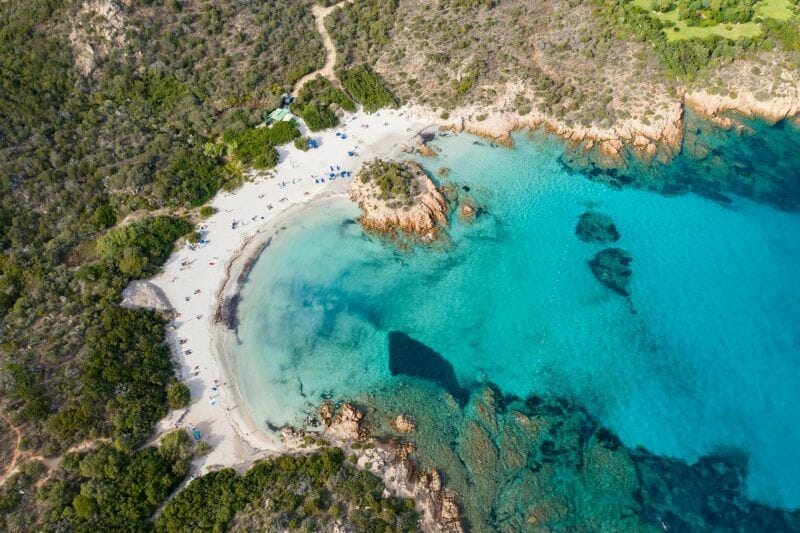 Just to give you a few pointers: the cost of pitching a tent in a camping site varies between €10 and €20 per day, depending on the season. A budget room in a local guest house outside of the center of town and off season costs €20 to €25 per person per night, whereas a dorm bed in a hostel in the heart of town costs €25.
These are the most budget friendly options, in places where locals like myself live and travel.
More realistically, if you watch your expenses but opt for a more comfortable kind of accommodation and a good restaurant here and there, you can average it to around €120 per day. Anything above that would allow you to travel more comfortably, and afford you even a bit of luxury – for example, a beach resort in a prime location in August, which is super peak season here.
Other than that, buses and trains are very cheap (though exploring the island on public transport isn't the easiest thing to do), and you can get some sweet car rental deals if you know where to watch.
As explained in the previous section, museums and archeological sites are very cheap to visit; all natural sites (ie parks and hiking trails) are free to access or – at most – have a €5 fee; and pretty much all beaches too – just a handful require a very small conservation fee.
Read my post How To Travel By Public Transport In Sardinia.
Is Sardinia expensive to live?
I know what you are going to ask me next! Is Sardinia expensive to live?
I actually have good news! In terms of living costs, Sardinia is one of the cheapest regions in Italy. Sardinia has been going through a recession for a long time now; the unemployment rate is skyrocketing in some parts of the island, and many have to move out of the region – in mainland Italy (usually the north) and other EU countries – in search of a job. Average wages in Sardinia are among the lowest in the country, and this in turns means that our living costs are cheaper too.
If you are looking to stay in Italy long term – if, for example, you are a digital nomad who wants to be based in the country for a few months; or if you are looking for a place to retire – you will be happy to know that the average cost of living in Sardinia is much cheaper than that of many other more famous places in Italy.
Cagliari, the capital of Sardinia, has good weather most of the time; it is blessed with great scenery (hills, beaches, city parks); lots of museums, archeological sites and beautiful churches; a fantastic cultural scene; bars, restaurants, plenty of shopping opportunities. The quality of life in Cagliari is one of the highest in Italy. It usually gets in the top 10 of the happiest cities to live in Italy.
As I live in Cagliari, and I have lived in Rome, I can tell you that Cagliari is significantly more budget friendly that the capital of Italy, and you can get a room for as cheap as €200 and a one bedroom apartment for €550 to €600 per month in the city center, including bills. €500 in Rome hardly gets you a bedroom!
The price of groceries in Cagliari obviously varies depending on where you buy, what you buy and the quality of what you buy. We Sardinians love food, and we think it is important to eat healthily and we prefer shopping locally. We often buy fruits and vegetables (as well as olive oil) directly at the producer, so that we know it is locally grown. We buy fresh bread every day. We prefer organic products and free-range meat. We buy what's in season.
Keep in mind that as Sardinia is an island anything that is imported from the mainland has an extra cost.
Here is what things cost in Cagliari: a liter of high quality fresh milk costs €0.75 and €1.45; a kg of bananas costs €1.30 (but depending on the offers, you can get it as cheap as €0.99) whereas a kg of Royal Gala apples costs €1.59; half a kg of pasta around €0.70; a kg of beef around €15 for one of the top cuts. Although we can drink tap water safely, we usually buy it bottled, paying around €0.30 for a 2 liter bottle; a cinema ticket costs between €4 and €7, depending on the movie theater.
Now that I have answered all your question on is Sardinia expensive, go ahead and read my post 13 Hacks To Visit Sardinia On A Budget.
Further Readings
Make sure to check out my other posts to get a better idea about the island:
Pin It For Later!