Can you visit Sardinia on a budget? You can, indeed, if you smarten up and follow some of my best travel hacks.
With quaint cities; paradisiac beaches; pristine nature; unique archeological sites; fantastic food; great wines and much more, Sardinia is a fantastic holiday destination, perfect for families with children, solo travelers, nature lovers and more.
Costa Smeralda – where some of the most famous beaches in Sardinia are located – has a reputation for being one of the most glamorous holiday destinations in the Mediterranean. It is thought to be the kind of place to visit if you want to rub elbows with the rich and famous. As such, many expect the island as a whole to be too expensive for their budgets and – for fear of breaking the bank – end up opting for other destinations in the Mediterranean that are perceived to be more affordable.
I did my best to break the myth in a previous post – Is Sardinia Expensive? A Local's Perspective.
In this post, I will share a few helpful hacks that will help you visit Sardinia on a budget.
13 Useful Tips To Visit Sardinia On A Budget
Book your flights or ferry in advance
I will never stress this enough. If you want to visit Sardinia on a budget, you need to plan your trip ahead of time. Although you may get lucky with last minute deals, advanced bookings are key to scoring a good deal on flights or ferry rides to Sardinia, especially if you intend to visit in the peak season (July and August).
How much in advance should you book? I am afraid I can't give a definite answer to this. I usually recommend to start monitoring prices 4 months, and to book flights 3 months before your trip – and as soon as you see a price you think is convenient.
Provided you are a flexible with your dates and that you grab a good deal when you see it, you may be able to fly to Sardinia for under €50 roundtrip from Europe or other cities in Italy.
If you are flying to Sardinia directly from the United States or Canada, you will most likely have to go via Rome Fiumicino. I recommend a connecting flight as it will end up being cheaper.
My post How To Get To Sardinia: Routes From Italy And Europe highlights the various options you have to reach the island, with mentions of the various airports, ports and the main airlines flying here. You should also read my post The Best Ferry Routes To Sardinia.
You can review the fares and book the ferry to Sardinia here. For the cheapest flights to Sardinia, click here.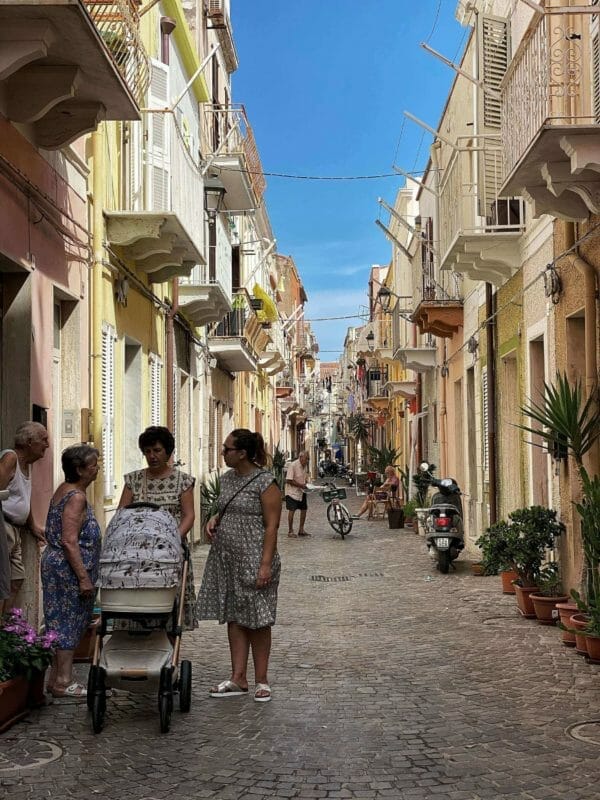 Pack light
Packing light is key when traveling on a budget, especially if you are flying on one of those low-cost airlines. If you manage to fit everything you need for your trip in a small carry on bag, you can definitely avoid excess baggage fees, and – quite importantly – you may be able to travel carry-on only, which is much cheaper!
In order to avoid surprises, make sure to check the hand luggage allowance of the company you are flying with – they are not always the same unfortunately. For example, Ryanair allows you to take up to 10 kgs on board; KLM lets you carry up to 12; whereas Ita has a limit of 8 kg. 
If you have yet to master the art of packing light, you may want to read this post for some useful tips.
Have a set itinerary
Having a defined itinerary is important if you want to visit Sardinia on a budget.
I know that some of you will cringe at the idea of deciding what to see and do before actually getting to a place – spontaneously deciding to go to one place is often one of the most fun things to do when traveling.
Yet, if your budget is limited this may not be a good idea.
First of all, Sardinia is a big island – the second largest in the Mediterranean, after Sicily. This means that unless you have a month to explore it, you will need to focus on a specific part of the island. If you have a week to ten days, opt for three or four carefully selected places to visit, preferably not too far one from the other. This means that you will save money on transportation – either public transport or gasoline, in case you decide to rent a car.
Secondly, establishing an itinerary means selecting your accommodation in advance too. This way, you will have more options to pick from (don't forget that Sardinia gets packed in the summer months) and you may find great deals that allow you to save some bucks.
Slow down
This point is clearly linked to the one above.
Slow travel is one of the best ways to save money while traveling. Slow travel literally means stopping in a place longer than you normally would, to get to fully appreciate its culture, its people, and to fully connect to it.
You see, Sardinia is a truly unique place. We Sardinians are proud people. Rough around the edges, we are generous at heart, welcoming, and once you befriend us, we give you our heart – and that's forever. You really shouldn't miss out on this opportunity – so instead of going around the island like a mad pinball, stay put in one place for a while.
If you spend longer in just once place, you may manage to learn a few words of Italian, talk to locals, and see if you can master a bit of Sardinian, our language.
But there's more. One of the main benefits of slow travel is that it's much cheaper. As I have already said above, if you continuously move from one place to another, you will quickly add to your budget. If you stay longer in a place, locals will share their best secrets: where they buy their groceries; the best hidden gems; their favorite budget eats. Remember: local places are usually cheaper, even here in Sardinia.
Use local transportation
If you decide to slow down, you will be able to "enjoy" the perks of moving around the island by public transportation – it's one of the best ways to explore Sardinia on a budget.
So here's the good news: public transportation exists in Sardinia. We have public buses in all medium to larger towns; trains connecting all main cities and smaller towns; and buses going to the all cities, small towns, villages and even tourist destinations. In some cases, city buses even go to some of the best and easier to reach local beaches.
More good news: public transportation in Sardinia is dirt cheap.
Now, a bit of bad news: buses and trains in Sardinia are slow. Painfully so. Despite recent efforts to improve the train lines, trains still move on older tracks – which means we don't have high speed trains. With buses, the main issue is that the island is mountainous, and the roads very windy – so they need to go slow!
Check out my post How To Travel By Public Transport In Sardinia.
Or look for rental car deals
I want to be completely honest with you. If you do rent a car, your travel costs will definitely be higher than if you don't and just move around by public transportation. It's inevitable. However, if you weight the costs and benefits, you will definitely see that getting your own car is the best thing you can do when in Sardinia – the island is just perfect for a road trip!
The good news is that you can rent a car and still enjoy Sardinia on a budget. My main tips for this are:
Compare online prices – there are tons of sites out there that allow you to compare the prices of car rental. I suggest to do a few simulations to see what the final cost would be.
Book in advance – yep, once again, the key to getting a good deal on car rental is to check the prices well before your trip. I'd say three months in advance is ideal.
Pick a budget car – it's cheaper to rent, it consumes less gasoline, it's easier to park (so you may even save on parking fees).
Visit off season
Sardinia is a fabulous summer holiday destination, but did you know that it's great to visit year-round? That's what I explain in my post 13 Reasons To Visit Sardinia In Winter.
Most people visit Sardinia during the summer months – June to mid-September, because that's when schools close and families with children can travel without worries. Tourist season here usually starts with Easter – so between the end of March and the beginning of April, and many tourist-related businesses (small hotels in summer resorts and tour companies that offer activities that can only be enjoyed in the summer) close when the last tourists leave in October.
Yet, Sardinia is incredible in the fall and winter months. It's still sunny most of the time; beaches are beautifully empty and though the water may be too cold to swim, you can definitely enjoy long walks. Winter is also when most festivals take place, so it's a great time to get to know the local history and culture.
Finally, if you are trying to visit Sardinia on a budget you will see that it's cheaper to fly here in the winter (look carefully, and you'll see some budget airlines offer flights for under €50 roundtrip from other Italian and European cities). Also, most hotels in the cities are open – and you can stay there for a fraction of what you'd pay in the peak season.
Get a tourist card
Like in most of the world, children, students and anyone over the age of 65 can get a discount when visiting an attraction in Sardinia. If you don't fall in any of this category, worry not!
If you intend to explore Sardinia on a budget but still see most of the attractions in the area you are visiting, you may want to check out the local tourist board website to see if they offer a tourist card – in some cases the savings are considerable.
I know that tourist cards are available for Cagliari and for the archeological park of Arzachena. Make sure to enquire locally once you arrive.
Enjoy the free beaches
You may not know this, but many beaches in Italy and in the Mediterranean are not free to access – or better, although the beach is meant to be public, most of it is occupied by concessions and bathhouses, which all require a daily fee to access.
Sardinia is different! About 99% of the beaches in Sardinia are free to access and although you may find a bathhouse there, you can by all means bring your own beach equipment and enjoy the beach for free.
The remaining beaches only request the payment of a small conservation fee (in the range of €1, plus the parking fee) and advanced bookings as they only allow for a limited number of visitors.
This means that even if you plan to travel in the summer and visit Sardinia on a budget, you will still be able to enjoy what the island is most famous for.
Watch out for scams
Tourist scams are an issue in all major tourist destinations and may well blow your budget. I may not notice them in Sardinia because I am a local – but to my knowledge, they are hardly a thing here. If you do experience a scam during your trip to Sardinia, definitely let me know in the comments or via email!
Carefully pick where you eat
This tip is valid for any place in the world you may visit, actually!
First of all, beware that restaurants in tourist hubs like Porto Cervo, in Costa Smeralda, or San Teodoro, tend to be more expensive. Having said so, the generic advice is to only eat where the locals are eating – prices are generally cheaper there, and that's how you can be sure that the food you will have is authentic.
The good news is that Sardinia has yet to become a mass tourism destination, so you can be sure that most restaurants you'll come across during your trip are typically enjoyed by a mixed crowd of locals as well as tourists.
If you don't know where to go, you have a few ways of discovering the best local eats:
Ask your host – Most Airbnbs and hotels now will have a folder for hosts with a few restaurant recommendations. If that's not the case, ask your host to suggest a few local places that may be in line with your budget.
Look on TripAdvisor and refine your search by budget.
Stop a local in the street – Yep, you can do this! I have often come across tourists that were literally stopping locals to ask for suggestions on where to eat. You may want to try that for sure – but it's definitely easier if you speak some Italian!
GOOD TO KNOW: Most places now hang their menu outside, so you can see if it is too expensive even before walking in.
If you see a restaurant offering a "tourist menu," steer away, even if the price seems fair – that's not a place where we locals would eat.
TIP: Make sure to pack your lunch to the beach, as beach kiosks can be quite expensive.
Go easy on the wine
Sardinia has great wines – pity they are hardly marketed! I can safely assume you will want to have many a glass during your trip, but that may quickly add up to your expenses.
One of my best tips for visiting Sardinia on a budget is to go easy on the wine you drink during a meal. Restaurants throughout the world mark up the cost of a bottle of wine, and what may cost you €10 at a supermarket will easily be sold for €15 or even €20 at a restaurant. If you are trying to watch your purse, limit yourself to one glass when eating out, and opt to buy a good bottle from a local store that you can enjoy at home (and for a much cheaper price).
GOOD TO KNOW: Many restaurants in Sardinia will have "vino della casa" (house wine) on the menu, and you can get it by the glass, by the quart, half a liter or even a liter. Quality may vary from average to actually really good, depending on what's available. It's usually much cheaper than any other wine on the menu.
Pick your accommodation wisely
Last but not least my tip for visiting Sardinia on a budget is to pick your accommodation wisely, and to book in advance.
Last minute bookings often mean lesser choice, and that usually translates in ending up spending more than you'd wish. If you look for a suitable place ahead of time, your range of options will be wider, and you may be able to find special early-bird deals too.
Watch out for Genius Discount on Booking.com. If you have completed just two bookings in two years, you can access discounts of up to 15% on selected properties.
Airbnb often has some excellent deals for an entire apartment – and if you are ok with something a bit outside from the city center, prices are even more convenient.
Another good idea may be to stay at a local Agriturismo – literally a farm that rents out rooms and serves meals of traditional food with prepared with the farm's own products, for a very reasonable price – you can expect to pay as little as €90 for a beautiful, private room and two earthy meals per day.
ìMost agriturismi in Sardinia are now on Booking.com.
Further Readings
Make sure to check out my other posts to get a better idea about the island:
Pin It For Later!