Cala Pira is one of the nicest, smaller coves of southeastern Sardinia. Easy to reach from Cagliari, and close to summer holiday destinations such as Costa Rei and Villasimius, Cala Pira remains a favorite of locals and tourists alike, and can get incredibly crowded in the peak summer months.
Yet, visiting is absolutely worth it: you will be rewarded with pristine clear waters, fine sand and more: if you are spending your holidays in southeastern Sardinia you should really make it a point to go.
Now, as I am a local and this is a place I visit every summer, I thought I'd share everything you should know before going. Continue reading to find out more!
Everything You Need To Know About Cala Pira Beach
Cala Pira Beach
Cala Pira is a beautiful 400 meters long sandy beach about 10 km from Costa Rei, and 15 km from the Protected Marine Area of Capo Carbonara, in Villasimius. The beach has incredibly fine, white sand and pristine waters, and as it is surmounted by cliffs on the southern side, and by a hill on its northern side, there are some gorgeous rock formation that make it an excellent spot for snorkeling. Children love it, as the calm waters make it an excellent spot for playing and practice their swimming skills.
Surmounting Cala Pira there is one of the many Aragonese watchtowers that date back to the early 17th century, beautifully surrounded by Mediterranean Scrub. This one has gone some (rather poor) renovation work. It can't be accessed, but you can easily reach it from the beach and once there you will be afforded splendid coastal views.
Cala Pira is nicely sheltered from the strong mistral wind that occasionally blows even in the summer, so many locals in the know head there from nearby Costa Rei to seek shelter from the wind.
The beach is equipped with one kiosk where you can get food and drinks and where you can rent whatever you may need for the day. The kiosk is also equipped with toilets for customers.
How To Get To Cala Pira
The best way to reach Cala Pira beach is by car.
From Costa Rei, take road SP18 southbound and continue along it until you spot a small sign on the other side of the road that directs you to Cala Pira. Drive slowly or you'll miss it!
From Villasimius, take road SP18 northbound.
From Cagliari, you'll have to take SS554 and turn right at the intersection for Muravera, then take the new SS125 and take the first exit to Costa Rei. Follow the directions to Costa Rei and once you reach San Pietro turn right and follow SS18 southbound.
There is a large parking lot at the beach. You'll have to pay for the duration of your stay.
You can also visit Cala Pira on boat trips along the coast, departing from either Costa Rei Monte Nai beach or from Villasimius tourist harbor and stopping at Isola dei Cavoli, in the Protected Marine Area of Capo Carbonara, Punta Molentis and Porto Giunco beaches in Villasimius.
Other Useful Information
Here is some more information that will help you make the most of your day at Cala Pira Beach.
DON'T TAKE SAND – Stealing sand, shells, pebbles and stones from Sardinian beaches is prohibited and it's an administrative crime that is taken very seriously. If you are caught with it, you may end up being fined.
BE RESPECTFUL OF OTHERS – Cala Pira gets very crowded during the summer months. Locals are used to this but it's always good manners to ask if it is ok to lay your umbrella right next to them. Likewise, avoid ball games that may disturb others.
ONLY LEAVE FOOTPRINTS – You will find garbage bins on the beach. Sardinia has regulations on separating organic waste from plastic, cans, glass and general waste. Don't leave large items you are unsure of – take them home with you. And by all means, don't leave cigarette butts on the sand as they are highly polluting.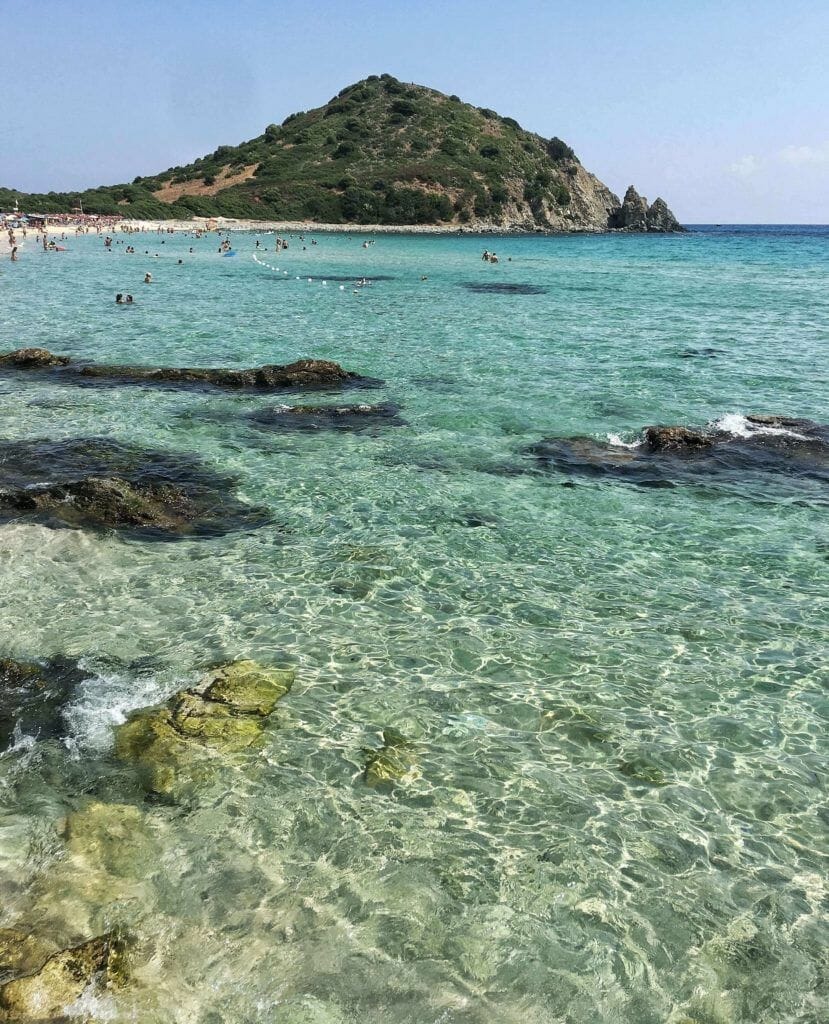 Other Nearby Beaches
CALA SINZIAS – At less than 10 minutes drive from Cala Pira, this is another locals favorite. While the color or the water and the sea is similar to that of Cala Pira, this is a much longer beach with deeper water. There are a few parking lots along the beach and well equipped kiosks. The best food is at Lido Tamatete.
SANTA GIUSTA – Locals calls this marvelous spot Scoglio di Peppino (Peppino's Rock). Blessed with very shallow waters, a massive rock where you can snorkel around, incredible vistas and fine sand, this is one of the most famous beaches in the area. The two resorts on site make it rather crowded. You can opt to stay at the beach on the other side of the rock formation for a quieter day, or else visit off season, in mid-September or October.
MONTE TURNO – A small cove closer to Costa Rei and also nicely sheltered from the wind. It has beautiful rock formations and Mediterranean vegetation at its back. You you will find a large parking lot for which you have to pay, and a nice kiosk called Iki Beach on the beach. For more information, read my post A Quick Guide To Cala Di Monte Turno.
Where To Stay Near Cala Pira
Most people who visit Cala Pira stay in nearby Costa Rei, where you will find plenty of good holiday homes, several good resorts and a few hotels. For more information, click here.
Alternatively, you can stay in Villasimius, which also has plenty of good accommodation options. To see what's available, click here.
If you opt to visit on day trips from Cagliari, you will want to look for places to stay here.
Further Readings
Spending your holidays in Sardinia? Make sure to read my other posts:
Pin It For Later!