At easy distance from Costa Rei, on the southeastern coast of Sardinia, Cala Monte Turno is one of my favorite coves, and a place I religiously visit at least once during the long Sardinian summer.
If you happen to be vacationing on this part of the island, you should definitely add it to your itinerary. In fact, even if you are just visiting Cagliari, you may want to consider going as it is only a one-hour drive.
Curious to find out more about this beach and to get some practical info? Continue reading!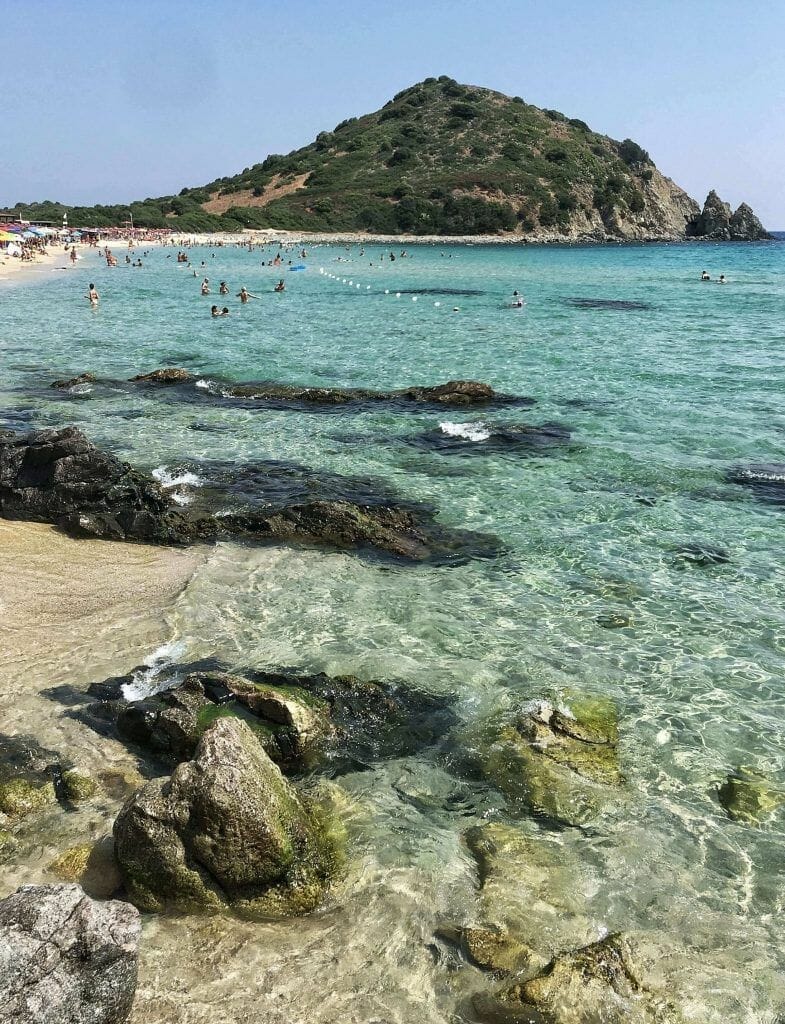 Everything You Must Know About Cala Monte Turno Beach
Cala Monte Turno Beach
Monte Turno is a beautiful, 300 meters (around 984 feet) long beach with fine, white sand and pristine, shallow clear waters. Surrounded by hills where juniper and Mediterranean shrub grow wild, and with no buildings close by, and with scenic rock formations, it's a beautiful place to spend a day during the summer.
As the water remains shallow for quite a length before the seabed drops, this is a great place for families with children.
GOOD TO KNOW: Since it's a small cove with surrounded by hills, Monte Turno is nicely sheltered from the wind and a better spot compared to nearby Costa Rei when the strong mistral wind blows.
Located at the beach there is one of the nicest kiosks in the area, called Iki Beach, where you will be able to grab a bite, a drink and a snack, and where you can get fabulous sunset cocktails. They also have toilets and showers, and rent out umbrellas, sun beds and other beach equipment.
A lifeguard is also present.
LOCAL TIP: Monte Turno tends to get very crowded in the peak season, so to secure a good spot plan to get there early in the morning or later on in the afternoon. Alternatively, head to your right as soon as you arrive, past the kiosk and towards the rock formations, as that spot is usually less crowded.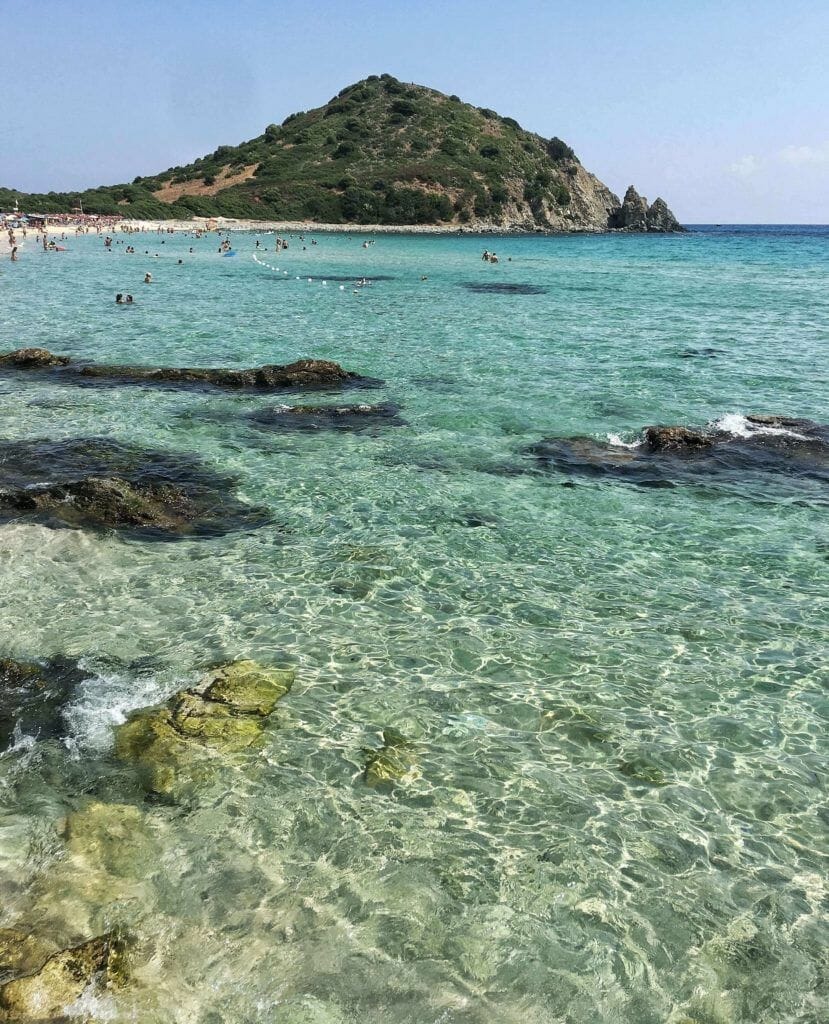 Important Rules of Behavior At Sardinian Beaches
Sardinian beaches are gorgeous, and you should do your best to keep them as beautiful as they are, and as clean as you find them. Unfortunately, too many people are still unwilling to do their best to respect and protect our delicate environment. Last time I was at Monte Turno I went for a walk on the hill to its left side and around the field behind it, where there are trees and Mediterranean shrub, and spotted abandoned trash, including some bags hanging on trees. It beats me why some people are so careless to abandon their trash, so it's worth repeating a few -obvious – rules.
DON'T ABANDON YOUR TRASH – Trash cans are found at the main entrance to Monte Turno, and you can use them to dispose of small trash. Any bigger item should be taken home and be appropriately disposed of, keeping in mind that recycling is big in Sardinia, so you'll have to separate your garbage accordingly.
DON'T TAKE SAND, SHELLS OR PEBBLES – Taking sand, shells and pebbles from anywhere in the world has an adverse effect on the local environment, and in Sardinia it is prohibited by law. If you are caught stealing sand or are found with some in your bag / luggage / car you will be subjected to an expensive fine.
BE RESPECTFUL OF OTHERS – If you enjoy ball games, please be respectful of other people at the beach. If you are a smoker, please beware that non-smokers will be able to smell your cigarette smoke from a distance and may be bothered by it, so you may be better off moving to a quieter place for your cigarette break. Just make sure not to drop your cigarette butts in the water or in the sand!
How to get to Cala Monte Turno
The easiest access point to Cala Monte Turno is Costa Rei. From there, drive south along SP18 for about 5 km. A small sign on your left will direct you towards the beach, but it's so small that if you don't know it is there you won't see it – so drive slowly and keep your eyes open. You'll have to almost do a U-turn.
If you are coming from Villasimius or Cagliari, you will have to drive towards Costa Rei on SS125, take the first exit towards Costa Rei and continue straight past the small bridge where the traffic light is located. Once you get to the main intersection, turn left. The turning point in this case will be on your right.
There is a large parking lot, and you will have to pay for the duration of your stay. Make sure to bring change!
Other nearby beaches
The area where Monte Turno is located is one of the most beautiful coasts of Sardinia, so you won't have troubles finding other beautiful beaches where to spend a day. The ones below are my favorite:
SANTA GIUSTA – Locally known as Scoglio di Peppino (Peppino's Rock), Santa Giusta beach is an idyllic spot of clear, shallow waters, fine white sand and beautiful rock formations. Unfortunately the presence of a couple of resorts in the area make this one of the most crowded spots in Costa Rei, but if you opt for the small cove on the other side of the rock, you won't have troubles finding a spot. Alternatively, visit at the very end of the season. The photo above was taken on a Sunday at the beginning of October.
CALA PIRA – The video above was filmed in Cala Pira by my cousin and her husband, and the voices you hear are those of her kids, who were understandably mesmerized by the presence of dolphins so close to the shore. While dolphins are easily spotted in the waters of Sardinia, they don't normally get so close to the shore. In any case, Cala Pira remains a gorgeous small cove with clear waters and surmounted by a Spanish watchtower. There is a nice kiosk where you can get food, drinks and rent beach equipment. You can also visit on boat tours departing from Costa Rei or Villasimius.
CALA SINZIAS – A locals favorite, this long beach with beautiful golden sand and transparent waters is perfect for families with children. You will find several kiosks to grab a drink and to eat, and to rent beach equipment. The best food is by far at Lido Tamatete, open year round.
Where to stay to easily access Cala Monte Turno
As previously mentioned, the nearest access point to Monte Turno beach is Costa Rei, where you will find a great selection of holiday homes and resorts. For more information, click here.
Alternatively, you can stay in Villasimius, where the accommodation selection is also great – find your place in Villasimius here.
Finally, Monte Turno is close enough to Cagliari for a lovely day trip, so if that's where you'd like to stay, you can find a great selection here.
Further readings
Traveling to Sardinia? Make sure to read my other posts:
Pin It For Later!