Palau is a small town located in northern Sardinia, overlooking the beautiful Maddalena Archipelago. In fact, Palau is mostly known for its port, where you can board the ferry to La Maddalena island.
Nonetheless, Palau has several things to offer to curious visitors that want to make the most of their trip to Sardinia, and it's a great base to explore the area, with interesting attractions, lots of nice beaches, and easy to explore.
Continue reading my guide to learn more about Palau, Sardinia, what to do in the area, and the most beautiful beaches near Palau.
What To See And Do In Palau, Sardinia
A bit of an underdog and overlooked by tourists heading to La Maddalena Archipelago, Palau has several natural sites, historical buildings and archaeological sites. Let's see which ones are worth visiting.
Roccia dell'Orso (The Bear Rock)
Also known as Capo d'Orso, this is a massive rock that was eroded by the wind into a bear-like shape. It is a natural work of art, from which you can enjoy a splendid view of the Sardinian coast and the Maddalena Archipelago.
You can visit the Roccia dell'Orso throughout the year from 9 am until 6:00, 7:00 or 8:30 pm depending on the season. There is a small fee to access the site, but visiting is free for children under 11 years of age. To book your visit, you can call the number +393470913032 or +393272986345.
Fortress of Mount Altura
The coastal location of Palau led to the construction of several fortresses between the 18th and 19th century. One of the most visited is the Fortress of Monte Altura, which dates back to the late 1800s. The fortress is characterized by a central staircase, which connects the building's two floors.
Although it's not possible to visit many of the interior rooms, the Monte Altura fortress remains a fascinating place, especially for history buffs. The site is open daily from 9:00 am to either 5:00 or 8:00 pm, depending on the season. You'll have to pay a small fee for visiting, but that includes a guided tour of 45 minutes. To book your visit, you can call the number +393470913032 or +393203407436.
Li Mizzani Giants' Tomb
Li Mizzani Giant's Tomb is a funerary monument, left by the nuragic civilization. In the past, it was thought that the tomb actually hosted gigantic creatures. Actually, the Tomb of the Giants are collective burial sites, which are a precious source of information on the nuragic civilization.
This site is characterized by a rectangular corridor, and by a 3 meters (9.8 feet) high monolithic column. The archeological site, surrounded by a spectacular landscape, is a place you don't want to miss during your trip to Palau. From above, researchers noted that the tomb has a shape very similar to the head of a bull, an animal revered by the nuragic people as a symbol of strength.
Make sure to read my post Who Were The Giants Of Sardinia?
Boat tour to La Maddalena Archipelago
Once in Palau, don't miss the opportunity to visit the beautiful archipelago of La Maddalena. You can do this on a day trip by taking a ferry from the port of Palau. During the summer months, there are regular departures with ferries leaving every 15 minutes, for a pleasant 4-km crossing during which you can admire the coastline of the island and archipelago.
You will need a car to explore La Maddalena. The island is famous for its beautiful beaches, such as the Capucchia du Purpu Beach and Cala Spalamatore. La Maddalena is also connected to Caprera, a more natural and wild island with wonderful beaches and trekking paths – my favorite is the one to Cala Coticcio.
Alternatively, you can book a boat excursion departing from Palau, to see the islands that make up the La Maddalena archipelago. Boat excursions stop at the various beaches, among which the gorgeous Cala Soraya and Cala Granara in Spargi, and Budelli Island, allowing you to dive into the crystal clear waters.
The price of boat trips varies depending on what's included, how big is the boat and how many passengers it carries. Below are two excellent options:
La Maddalena: Island-Hopping Sailing Tour with Lunch – one of the most expensive options, it's a fabulous tours to the best beaches of La Maddalena Archipelago.
From Palau: La Maddalena Archipelago Full-Day Boat Tour – a more budget friendly option, but keep in mind you'll be traveling on a much larger boat so there will be many people on the tour.
Don't forget to also read my posts The Best Boat Tours To La Maddalena and A Useful Guide To La Maddalena.
Hike to Talmone Battery
The hike to Talmone Battery departs from Costa Serena and is an easy one that affords you stunning views of the coast, the beaches and of many abandoned military sites. At the end of the hike, you can enjoy a swim in the clear waters of Costa Serena. The trail is easy to follow, but you can join a guided tour if you are alone.
Costa Serena: Coastal Guided Trek to Talmone Battery – this guided hike is run by the Fondo Ambiente Italiano.
Best Beaches In Palau, Sardinia
Palau is home to several beautiful beaches where you can relax and swim in the crystal clear emerald sea of Sardinia. Here are some of my favorites.
Don't forget to also read my post The Best Beaches In Northern Sardinia.
La Sciumara
La Sciumara has fine golden sand and shallow waters, which make it ideal for families with children. The green Mediterranean scrub, soft sand and clear sea create a beautiful landscape where you can lay down and relax. The beach also overlooks the island of La Maddalena, which can be seen in the distance. La Sciumara is an equipped beach, so you can rent umbrellas and loungers if you need to.
Cala di Trana
Cala di Trana is one of the most beautiful beaches in Palau. Protected from the wind by the granite rock and surrounded by the typical Mediterranean scrub, Cala di Trana features emerald waters and soft sand. The beach is completely free to access, but it's not services so you will not find any sort of equipment for rent (you'll have to bring your umbrella for shade) or a kiosk, so you need to bring your own food and drinks.
Cala Martinella
A small beach very close to Palau, Cala Martinella is well known for the turquoise sea, white sand and rock formation, and for the Mediterranean vegetation. Bring with you everything you need for a comfortable stay, as the beach does not have any services or equipment for rent.
Cala Capra
This beach features fine white sand and sea colors ranging from blue to green. Like Cala di Trana, Cala Capra is a free to access beach, and not serviced at all. Bring everything you may need for the day.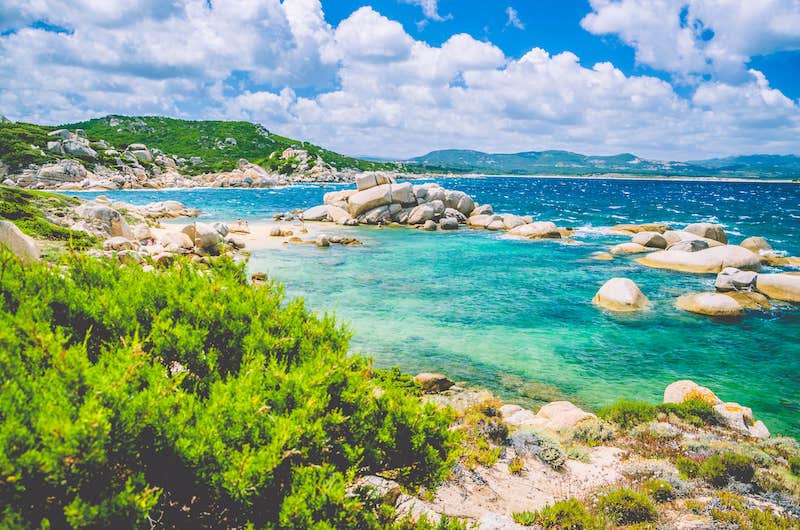 Costa Serena
This beautiful, white medium-grain sand beach is beautifully surrounded by Mediterranean shrub and is characterized by incredibly clear waters. It's a truly pristine place. It can get crowded, but if you walk towards the end of the beach on either site, you will find plenty of space to lay your towel and place your umbrella.
The beach is a bit outside Palau, on the way to Porto Rafael – Punta Sardegna.
Porto Pollo
Known locally as Portu Puddu, Porto Pollo is a stunning bay located about half way between Palau and Santa Teresa di Gallura. The bay is characterized by fine white sand, clear, shallow turquoise waters (thus being perfect for families with children) and thick Mediterranean scrub.
Together with Arenaria beach, Porto Pollo creates an isthmus that joins mainland to the small Isola dei Gabbiani (which locals referred to as Isuledda). This part of Sardinia is almost constantly exposed to the wind, thus making it perfect for water sports such as wind surfing and kite surfing.
You'll find plenty of parking spaces, a place to rent umbrellas and loungers, and disabled access too.
Porto Rafael
To be fair I am not the biggest fan of the beaches in Porto Rafael, but this small hamlet is a popular hub for luxury travelers. It's nice to go there for a sunset stroll to check out the lovely gardens, the stunning villas, and sip a delicious cocktail in one of the many bars.
Practical Guide
Best time to visit Palau, Sardinia
Palau is a very popular summer destination in Sardinia, and while you can find things to do in other seasons, the best time to visit is definitely between the end of May and the end of September, when days are longer and the hot temperature will be mitigated by the many stunning beaches.
With this in mind, you may still want to avoid visiting between mid July and the end of August, as this is peak season in Sardinia, which means the price of flights and ferries will be much higher, as well as that of hotels, and the beaches will be more crowded.
Where to stay in Palau
Palau offers several accommodation options. You can find hotels, as well as B&Bs and apartments for rent, and there really is something for any budget and travel needs. Below are some of the best options:
Tenuta Petra Manna
Located in the countryside near Palau, this small family run bed and breakfast is the perfect place to stay if you need peace and quiet. Rooms are decorated in traditional style; a delicious breakfast is served every day; and you'll have a massive garden to relax in the evening, after a day of exploring the area.
Hotel Palau
If you prefer a resort-type of accommodation, this is a great option. You'll have a comfortable room, plenty of outside space, a pool, a wellness center, a bar and a restaurants. It's a perfect place to stay for families as you'll have direct access to a private beach.
Gli Ulivi – La Zirichelta
This small holiday home is perfect for a small family and beautifully immersed in the countryside. It has everything you need for a comfortable stay.
Palau City Hotel
This small hotel is located near the city center and has very affordable prices. It may not be charming and it is indeed quite basic – but rooms are clean, and the prices can't be beat if you consider you are in a very popular holiday destination.
Where to eat in Palau
Once in Palau, I suggest you try some local cuisine. Among the best places to eat, I recommend Ristorante Dal Porticciolo, which specializes in meat and fish dishes. Alternatively, you can book a table at Trattoria il Ghiottone, to try some excellent traditional local dishes.
How to get to Palau, Sardinia
The best way to get to Palau is by car. The nearest airport is Olbia Costa Smeralda, from where you can take the State Road SS 125 road towards Arzachena – Palau and then turn right at the Palau – Santa Teresa junction. It should take you around 45 minutes to get there.
In general, I recommend renting a car for your trip to Sardinia – even more so in an area such as Palau where you will want to do some beach hopping. However, if you want to take the bus to get to Palau from Olbia, you can take the Santa Tersa Gallura – Olbia Aeroporto Line that stops at the port of Palau.
Make sure to also read my post A Guide To Renting A Car In Olbia.
Pin It For Later!