Dolianova is a place full of ancient history and traditions. Located in the area of Parteolla, this small Sardinian town is now known for the production of wine, oil, cheese, and for its traditional craft work.
As my mom is from the Parteolla region herself (she grew up in Serdiana, right next door to Dolianova) I visit on a regular basis, and I know the area quite well and thought I'd write about it.
You won't regret visiting: this is a nice place to get off the beaten path in Sardinia. You will find yourself in a unique place, which is strictly linked to its history. From the prenuragic era, to the Middle Age, this town can teach you a lot about Sardinian history.
As many other places, Dolianova is surrounded by a stunning landscape, made of fields, olive groves, and rock formations. If you enjoy hiking, there are different interesting routes that allow you to enjoy the beauty of the nature and also the main archeological sites that this area offers.
So, if this introduction intrigued you a little bit, here are few things that you might want to know to organize your trip to Dolianova.
Make sure to also read my posts The Prettiest Small Towns In Sardinia and The Best Day Trips From Cagliari.
The History Of Dolianova
The town of Dolianova was officially created in 1905 from the union of two former villages: San Pantaleo and Sicci San Biagio. However, the entire area is full of archeological findings which demonstrate that there have always been human settlements in the area, since prehistoric times.
There are findings that date back to the Nuragic era, to the Phoenician and Punic time, and also to the Roman empire. The most important remains from the Middle Age are the two churches that belong to the original towns: San Pantaleo and San Biagio.
Nowadays, Dolianova is one of the most important centers in Sardinia for the production of wine, olive oil and cheese. It is also the most important town in the area due to its typical craft work.
What To See And Do In Dolianova
There are many beautiful things to see in Dolianova. Here's a brief indication on places you could visit if you decide to spend your vacation there.
Church of San Pantaleo
Built in the 13th century, this majestic church is the best example of Pisan Romanic style in all of Sardinia. However, the church rises above a former religious place which dates back to the 6th century. The main thing that remains of the ancient Christian church is the baptismal font, which can still be found inside the church of San Pantaleo. The altar is also impressive.
This important church is still functioning: the priest serves mass daily, and the church is open for visitors so feel free to walk in!
Don't forget to read my post The Prettiest Churches In Sardinia.
Church of San Biagio
The full name of this church is actually Sicci San Biagio. It used to be the town's main church until the creation of Dolianova in 1905.
Built in the early 16th century in late Gothic style, the church saw severe damage already at the end of the century and was completely rebuilt in the 17th century. The facade was rebuilt in 1782 and the bell tower dates back to the mid 19th century – it was the first public watch in the town!
Main Square
Dolianova main square is a nice, airy place where you can spend some relaxing moment observing the slow paced local life. It's where the school building is located, so for extra action go there in the early morning or when kids get out of school. There are plenty of benches where you can sit for a while and trees for shade.
Villa de Villa
Located in Via Giosuè Carducci, this beautiful villa dates back to the beginning of the 19th century. By the 1960s it was unfortunately abandoned and was mostly in ruins, but the city of Dolianova eventually bought it in the 1980s and restored it back to its original splendor. It is currently used for events, exhibits, concerts.
Sa Mola de Su Notariu – Museum of Oil
This museum was created in 2003 in order to collect every document regarding the production of oil in Sardinia. It displays ancient tools and equipment used by workers during all the different processes of oil production. It also has a one-of-a-kind collection of oil lamps, which is exhibited in the basement.
If you are now interested in visiting this beautiful museum, you can go there from Monday to Friday, throughout the day, and on Saturday morning. Please take care to notice that the museum is actually a working crusher!
For a guided tour of the Museum of Oil with a tasting course, click here.
Nuraghe Sa dom'e S'Orcu
This nuraghe is probably the most undamaged in the entire area of Dolianova. It dates back to the 2nd millennium B.C. It consists of a main tower, which is approximately 4 meters tall, and of a small village which can be found in the eastern part of the archeological site.
This nuraghe rises in a rocky area, with a stunning view of the Parteolla which on clear days can span all the way to the Gulf of Cagliari. Getting there is a bit of a walk, but it is rewarding.
Head over to my post A Guide To Nuraghe In Sardinia.
Fonte Sacra Sa Mitza Salamu
Close to Sa Dom'e S'Orcu nuraghe, it will take a bit of an effort to find this sacred source of water. It's located at the foot of the Bruncu Salamu mountain, completely immersed in nature and as such a beautiful sight. The source is a testimony of the presence of the Phoenicians and Punic civilizations in the area.
Nuraghe of Sant'Uanni
The Nuragic site of Sant'Uanni – Saint John in English, or San Giovanni in Italian – is very ancient and has had a very long and complex history. It is known that the site was inhabited during the Roman occupation and that it became a place of worship when the church of Saint John was built there.
Unfortunately, you will not find this important historical site in good conditions, because, during the centuries, many stones that made up the building were taken from it. Nowadays, it mainly is just a few rocks on top of a small hill from where you can get nice views of the surrounding countryside.
Getting there from the center of Dolianova is easy. Walk or drive out of town and follow the signs to San Giovanni.
Su Tiriaxiu Giants' Tomb
Much like the above mentioned nuraghe, there isn't much to see at this giants' tomb but the setting is so pretty that you may want to check it out anyways. It's located about 5 km from Dolianova, close to Sa Dom'e S'Orcu nuraghe and right by a river, in an area that is rich in water sources.
Make sure to also read my post Who Were The Giants Of Sardinia?
Festival of San Pantaleo
Saint Pantaleo is one of the two protectors of the town. On the 27th of July people in Dolianova celebrate this saint with a procession through the town and, after that, traditional dances by the folk group of Dolianova.
You should also read my post The Best Festivals In Sardinia.
Festival of San Biagio
Saint Biagio is the second protector of Dolianova. This saint is celebrated by the inhabitants on the 3rd of February. This celebration is famous for its benedizione della gola – blessing of the throat – during which the priest blesses the throat of the people by crossing two candles. Then, some typical sweets, pirichitteddus, are offered to people.
Medieval festival
This festival takes place at the end of September. Its purpose is to remind and celebrate the importance that medieval times had in Dolianova. The most important remain of that period is the church of San Pantaleo, and for this reason its churchyard is used during this festival to have representations that show how life would be during the Middle Age.
Argiolas Formaggi
One of the most interesting places to visit in the Dolianova area is Argiolas Formaggi. The Argiolas family opened its cheese factory in 1954 and since then has been producing some of the best cheese on the island. It's an interesting place to visit to learn about the process of cheese making, and you can obviously have lots of cheese samples while you observe!
You can visit the factory on two different tours:
the tour of the dairy costs €10 per person and that lasts about 1.5 hours;
the cheese making experience costs €15 per person and lasts 2 hours.
Both tours require advanced reservations.
Make sure to check out this wine, cheese and olive oil tasting experience in Dolianova and nearby Serdiana.
Don't forget to read my post The Best Cheeses To Try In Sardinia.
Cantine di Dolianova
First opened in 1949, the Cantine di Dolianova is just one of the many wineries you will find in the Parteolla region. They make a variety of white and red wines, and also top quality spumante – my favorite is Caralis.
The winery opens for visits during wine festivals like Cantine Aperte, but you can also book a wine tasting experience – prices go from €20 to €25 depending on the wine selection you decide to try. Wine tasting experience run Monday to Saturday at 10:00 am and Monday to Friday at 3:30 pm. They must be booked in advance directly on the site of the winery.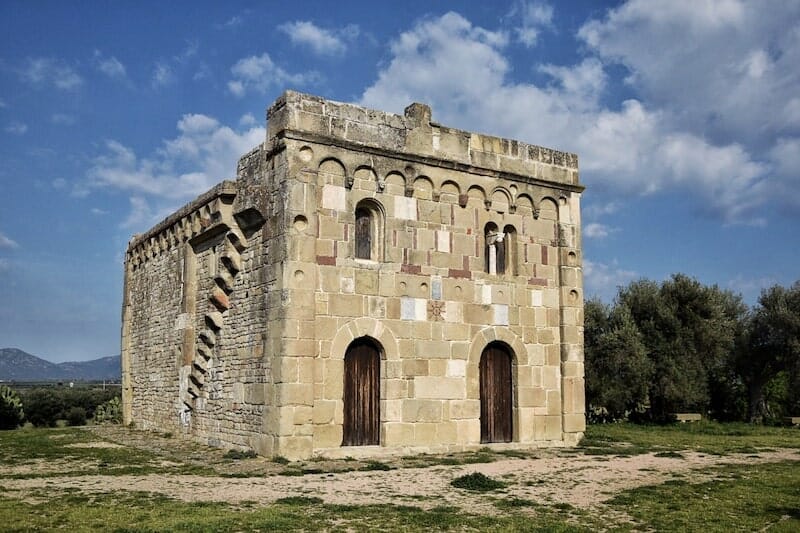 Nearby Serdiana
As explained at the beginning of the post, Serdiana is located right next to Dolianova so people who head to the area typically visit both on the same day. The main places of interest in Serdiana are the tiny Santa Maria di Sibiola church, an 11th century Romanesque church you'll find in the countryside just outside Serdiana. Unless it is open for special events, you can only see the outside – but it's really pretty so it's worth going there.
Not far from it, Su Stani Saliu is a salt marsh home to a colony of pink flamingos. The area is perfect for a relaxing nature walk.
Head over to my post A Quick Guide To Serdiana.
Practical Guide
How to get to Dolianova
Dolianova is an easy, straightforward 25 minutes drive from the center of Cagliari (it's just 20 km or 12.4 miles), and very easy to reach both by car and by bus.
If you travel by car, take State Road (SS or Strada Statale) SS554 eastbound until you reach a large intersection and the first and only traffic light along the way. Turn left and take SS387 towards Dolianova. Beware there are several speed camera on SS387 so make sure to respect the speed limit.
If you'd rather travel by bus, you can take bus 9118 from the main bus station in Piazza Matteotti, in Cagliari. You can get off in Corso Repubblica. This bus ride takes more or less one hour.
Where to stay
You can easily visit Dolianova on a day trip, but should you want to stay longer you can count on a few accommodation options.
Casa Rosino B&B
This B&B will accommodate you in Dolianova, offering a nice homely atmosphere. It is located in a quiet street near the bus stop, so that if you come by bus, it will be easy to get to the town center.
It accommodates guests in three rooms, each one with a cooking area, a TV and private bathroom with toiletries. The common area is equipped with a kitchen and a living room. Moreover, there is a beautiful garden where you can sit and relax, and enjoy the breakfast offered by the B&B.
You will also be able to count on free Wi-Fi, free parking, and if you want, the owner can provide bikes for you to move around.
DoliaHouse B&B
Cozy and clean rooms will await you in this B&B. Located in the center of Dolianova, it is very easy to reach the church of San Pantaleo and visit the town from here. The bus stops is steps away.
Every room in this B&B has a private bathroom, a coffee maker, and a balcony with a beautiful overview of the garden that surrounds the place. It offers free Wi-Fi, a rich Italian breakfast. Free parking is available close by.
Anticacasaliori B&B
This nice B&B is located in the center of town. It offers free Wi-Fi, free parking and a fresh Italian breakfast that you can enjoy in the beautiful garden. You will also be able to use the barbecue in the garden, in case you want to eat in.
Every room has a private bathroom with toiletries. Pets are welcome here – and there's no additional fee for them. You will just need to inform the B&B before you arrival.
Pin It For Later!