Looking for the ultimate Costa Smeralda guide? Welcome – you're in the right place! I was so excited to put together this guide because this is such a diverse and dynamic place to visit.
This region on the northeastern coast of the Italian island of Sardinia is filled with white sand, luxurious resorts, giant yachts, and divine wine. In fact, Costa Smeralda translates to the Emerald Coast. It's literally an Italian gem; jewel-toned water and cultural treasures abound!
Whether you're seeking astonishing archeological sites or the best beaches, Costa Smeralda is brimming with everything your heart desires. Also, if you're looking for recommendations for where to stay, then I've got you covered. I've taken many trips to Costa Smeralda and have bounced around different accommodation options. So, get ready to find out the best spots to stay in Costa Smeralda too!
If you're ready to learn all there is to know about Costa Smeralda, let's get to it and dive right into the deep end.
What To See And Do In Costa Smeralda
Arzachena – Wine on the Mind?
Arzachena is a small city tucked just a handful of kilometers inland from Costa Smeralda. So while it's technically not on the coast itself, it is a vibrant place filled with ancient architectural wonders and cannot be missed! Plus, you might need a little break from the sun and the sand sooner or later.
Brimming with charm, Arzachena simply bursts with colors— brightly-lit boutiques and flower-filled streets. Tons of their traditional farmhouses – called "stazzi" – have been renovated into chic bed and breakfasts and sites for agritourism. Keep in mind that the population of the city is roughly 14,000, and their tourist capacity is 14,000 with sleeping accommodations. During the peak tourist season, the population literally doubles!
Inside the town center sits the Monti Incappiddhatu, "mountain with a hat," also called the "mushroom rock." It's a rock that was shaped and used in the Neolithic age.
Outside of the city, you can discover an expansive archaeological park with a bevy of ancient curiosities.
Li Muri necropolis is the oldest site, dating back to the late 4th millennium BC. It is the most famous of the sites in the region. Another name for the Li Muri is "Grave Circles." There is also a nuraghe to see, as well as the Tomba Moru – a Tomb of Giants. Lastly, there is the temple of Malchittu to check out.
Arzachena is also famous for producing the highest quality Vermentino di Gallura wine. This dry white wine is delicate with strong floral notes, yet at the same time, it's a bit zippy, balanced by acidity and minerality. Why not visit the vineyards and see the wine wizardry happen for yourself? I recommend visiting Surrau and Capichera.
Surrau will treat you like a king or queen! They'll set out a table full of crackly flatbread (pani carasau) and homemade cheese, and you'll learn the ins and out of Vermentino and sample a hefty amount of wine too!
Capichera Winery has played a significant role in the winemaking renaissance and revolution; sampling their Vermentino and handful of other reds and rosés they produce is a true delight.
Hungry for lunch? Jaddha is where to go if you want a Sardinian feast! If you're in more of a rush, head over to La Vecchia Costa, a favorite local restaurant with authentic local food. If you have a hankering for wood-fired pizza, then La Terrazza is the way to go!
Make sure to read my complete Arzachena guide.
Porto Cervo — A Celebrity Magnet
Porto Cervo is a luxurious seaside resort on the most northeastern section of Costa Smeralda, and arguably its main center! Created in the 1960s upon wishes of Prince Karim Aga Khan IV, this small center flourished quickly, especially after the new tourist port was built in the 1980s.
Although it has a population of just 421, Porto Cervo has been deemed one of the most opulent and expensive resort cities in the world. Moreover, the lovely Porto Cervo Marina is where yachts come in to dock—there are 700 berths for mega-yachts.
Why not stroll around town through the luxury boutiques for an afternoon, or sip a cocktail at a posh club (mind you, it ain't cheap); you'll likely see a celebrity or two. Porto Cervo is a magnet for the rich and famous.
Other than celebrity-spotting, make sure you keep your eyes peeled for the fantastic architecture in Porto Cervo. There is the Stella Maris church that almost looks like a work of Gaudi, yet was designed by Michele Busiri Vici. You can soak up sweeping panoramic views of the city below from the church itself. Other than that, in general, the architecture has beautiful decorative elements and boasts a bevy of rustic walls and granite pathways.
For a guided tour of Costa Smeralda that also goes to Porto Cervo click here.
Not far from Porto Cervo, you'll find a plethora of incredible beaches – more about them below!
Porto Rotondo — All That Glitters
Porto Rotondo is the chief competitor of Porto Cervo. It lies a little further South than Porto Cervo. They are just a 30-minute drive apart! Porto Rotondo is a picturesque village filled with exclusive nightclubs, breathtaking beaches, and chic boutiques.
Home to a thousand inhabitants, it can house over 30,000 tourists. And with 800 moorings for boats, it outdoes Porto Rotondo in that regard. In fact, it's home to the Porto Rotondo Yacht Club, founded in 1985, which only solidifies this city's luxe-factor.
Porto Rotondo was architecturally styled after Venice and was named for the circular bay which it is nestled around. The nearby beaches are idyllic. Porto Rotondo is ritzy for a reason! In Porto Rotondo, take a boat tour, have a drink at Paguro, and throw your beach towel down at Spiaggia di Ira.
Cannigione – A Scuba Diver's Paradise
Cannigione is sits roughly 10 kilometers east of Porto Cervo, and 10 kilometers away from Arzachena. It's a popular route to boat between these cities.
Situated on the largest and deepest inlet —created by a river meeting the sea — Cannigione has a vast stretch of golden sands. While it is a pristine beach, it certainly isn't what I'd call secluded. It's actually a bustling tourist area with a long promenade, a modern port, and a sprinkling of restaurants and little shops. And if you're interested in scuba diving or snorkeling, this is one fantastic place to do it.
Most importantly, it's one of the best diving spots in Sardinia! After the shallows, the water in Cannigione slopes downwards, revealing lots of fish and a bank of seagrass to explore.
If you feel like hopping on a boat, why not take it to the Maddalena Archipelago National Park (you can book your tour here). Or ride on over to the Stagno di Padula Saloni, a small pond home to fantastically unique birds – from the purple heron and black stork to the rare phoenix— okay, just kidding about the last one!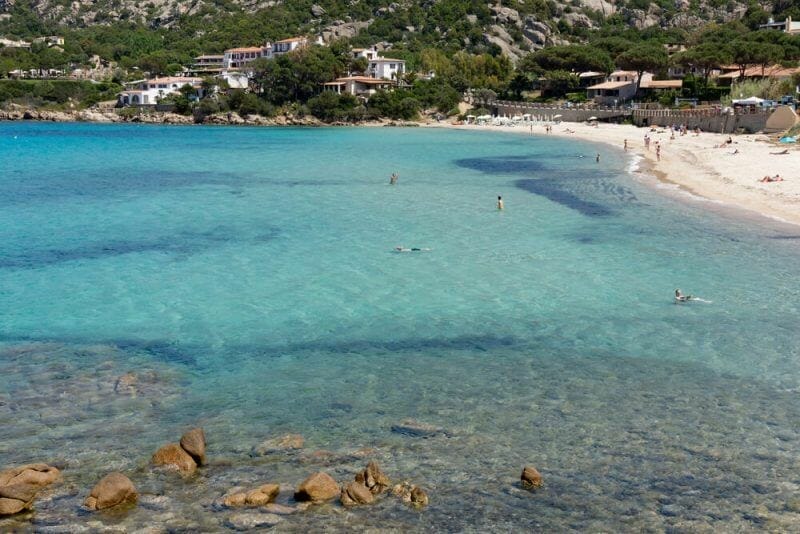 Baja Sardinia – The Bay of Water Sports
Baja Sardinia is a small resort town with a mere handful of bars, shops, and restaurants sprinkled throughout the villas, resorts, and hotels.
If you're in the mood for some epic water sport activities, this is the place to do it. Given the bay's position, it's a perfect spot for windsurfing and sailing. At most times, the water is as still as glass, and the wind is blowing full blast!
San Pantaleo – Completely Charming
San Pantaleo is an inland mountain village about 14 kilometers south of Porto Cervo. While most of the other towns in Costa Smeralda were planned and created in the 1960s for the sake of tourism, the village of San Pantaleo has a history that dates all the way back to 800 BC.
This is a charming village that showcases the rustic charm of traditional Sardinian life. Thursday is the best day to visit, as that's when San Pantaleo hosts a ravishing morning market filled with local foods, fruits, and artisanal delights. Make sure to sample traditional homemade cheese and the local honey. Local musicians play on the street, and aromas abound!
Make sure to also read my post A Short Guide To San Pantaleo.
Poltu Quatu – A Hidden Jewel
Poltu Quatu translates to "hidden harbor" in Sardinian. At about 30 km north of Porto Rotondo, and 2 km from Porto Cervo, it's nearly on the northernmost tip of the Emerald Coast and offers positively enchanting views of the infinite-shades of turquoise waters.
Best of all, it's hidden away in what feels like a top-secret location. There's really only one giant resort situated there; however, it has everything from a shopping center, bars, and a restaurant to a sailing school and diving center. This resort has it all.
If water activities like scuba diving or snorkeling aren't your thing, just hop in a boat and go whale and dolphin watching. You can also charter a boat or learn how to sail.
The Best Beaches in Costa Smeralda
Costa Smeralda isn't called the Emerald Coast for nothing! The gorgeous coastline is filled with white sandy beaches and pristine turquoise waters that sing a siren song to any traveler.
The following are the best beaches in Costa Smeralda.
For a guided tour of the beaches of Costa Smeralda departing from Olbia, click here or here.
Capriccioli
Situated just south of Porto Cervo, and 2 km southwest of Principe Beach, Capriccioli Beach is a small strip of white sand surrounded by Mediterranean brush. The olive and pine trees provide an excellent wind-barrier. The waters are transparent, shallow, and usually utterly calm. Given the safety factors of the calm and clear water, this beach is quite popular with families.
Keep in mind that there are two coves at Capriccioli, and for some reason the northernmost beach gets significantly more people.
You should also read my post A Guide To Capriccioli Beach, Costa Smeralda.
Celvia
Celvia Beach is actually within easy, comfortable walking distance of Capriccioli, it spans 300 meters and faces south. There are plenty of restaurants lining the shoreline, so this beach is a popular one to head to for a proper meal. Of course, the beach has the fine, white sands to relax on and the glittering calm, turquoise waters to bathe in.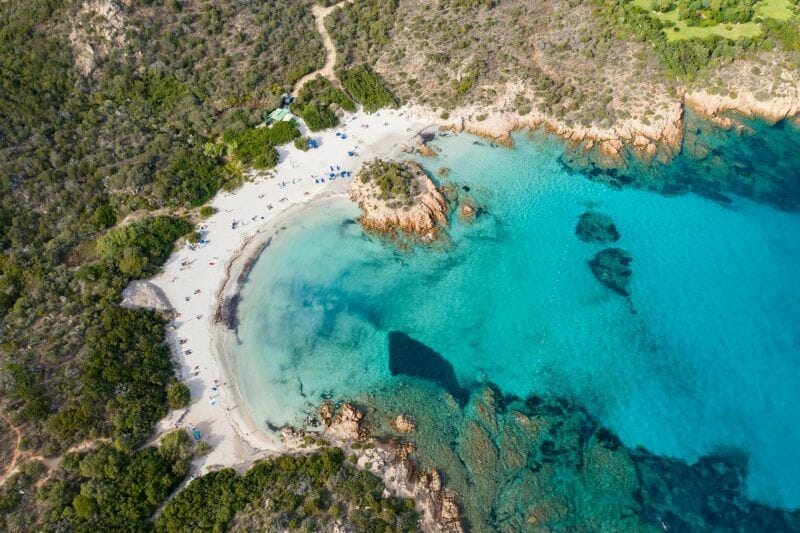 Principe
Officially ranked as one of the 20 most beautiful beaches in the world, Principe Beach is a slice of paradise. It's a white arch of sand at the bottom of a deep inlet. Colossal pink granite rocks shelter it, and there is actually granite right in the seabed.
It is because of this underwater granite that the water turns many different colors and changing hues, ranging from cobalt blue to emerald green and even whitish-pink.
Principe Beach sits just south of Romazzino Beach, near Cala di Volpe. There is a ten-minute walk along a rocky path before you hit the fine, sandy shore. Don't be confused if you hear the locals call it Poltu Li Cogghi Beach – it's just the local name.
Romazzino
Romazzino Beach is just north of the village of Romazzino, and 6 kilometers southeast of Porto Cervo. It's sheltered from the wind and has wonderfully shallow waters. It is also a popular spot for snorkeling, but you won't find any other water activities available. In total, the beach spans a length of 400 meters.
Right in the middle of the beach, there is a long wooden pier that is the perfect spot to snap a memorable photo!
Piccolo and Grande Pevero
Piccolo and Grande Pevero Beach are actually two beaches in one. The smaller beach, Piccolo, covers 120 meters, and the larger beach —Grande Pevero — spans 300 meters. Both beaches lie 3 kilometers south of Porto Cervo. As a matter of fact, these beaches qualify as some of the most popular beaches in the Emerald Coast, and it's likely where you'll spot a celebrity or two.
The beach is surrounded by shrubs, so it is protected from the wind. There are canoes, jet skis, and pedal boats available to rent if you want to take a break from sunbathing.
Cala di Volpe
Cala di Volpe is a genuinely beautiful deluxe beach attached to the Hotel Cala di Volpe. You're going to feel dazzled at discovering this sparkling cove with a laid-back vibe and striking blue-green waters.
With a whimsical name (translating to "the bay of the fox"), you won't see any of those furry critters darting around, but you may see a boatload of foxy eye-candy around these parts!
Rena Bianca
Another beach worth mentioning is Rena Bianca, which sits just a few hundred meters north of an ancient village and is the main beach of Santa Teresa di Gallura. It's not technically Costa Smeralda anymore – but close enough for you to get there in case you need a change of scenery.
Rena Bianca beach spans 200 meters and gives guests views of the tiny Isola Municca, the white cliffs of Corsica, and the la Torre di Longonsardo. A great snorkel spot, you're going to be swept off your feet at the beauty of this beach. In fact, you should climb up the hill of la Torre di Longonsardo to take in the stunning view from high.
There are also pedal boats, kayaks, and canoes to rent; and a restaurant and bar up on the hill that serves drinks and snacks.
Check out my post A Complete Guide To Santa Teresa Di Gallura, Sardinia.
Practical Information To Plan Your Trip To Costa Smeralda
How to Get There
Olbia Airport specifically serves Costa Smeralda. It is about 27 kilometers from Arzachena, and just 19 kilometers from Porto Rotondo. Buses from Olbia Airport to Arzachena cost €2 to €4 and take about one hour, but after you get to Arzachena you'll have to make your way to one of the hamlets where you are likely going to stay such as Porto Cervo, Porto Rotondo, Cala di Volpe.
The best thing to do is therefore to rent a car. If you want to do that, you can find great deals. A small compact car will cost around 20 euros a day. Keep in mind that the price will rise during tourist high season.
If on the other hand you are planning on just relaxing in the sun and hanging at the beach, perhaps an airport transfer is a good idea. You can book yours here.
If you can't find flights to Olbia, you have the option to fly into Alghero Airport, which serves the north region of Sardinia. Alghero Airport sits on the Northwestern coastline, so it is over 150 kilometers to Costa Smeralda – a 2-hour drive.
Check out my post How To Get To Sardinia: Routes From Italy And Europe.
Where to Stay
With so many incredible luxury locations in Costa Smeralda, it can be difficult to choose which one to stay at! Also, for those of you out there who don't want to smash your piggy banks to bits, it's also important to let you guys know about my favorite budget-friendly locations on the Emerald Coast.
For around $200 a night, you can stay in the ever-popular, ever-luxurious Porto Cervo. This five-star resort, complete with its own private beach, is worth every penny. You can soak up panoramic views of the bay, take a dip in the outdoor pool, or walk along the white, sandy shore of their private beach. With meals included in the room's price, you really can't call this hotel a splurge, even though it's a five-star resort! Expect your rooms to be immaculately clean.
Cala di Volpe is a destination in and of itself. It is a ritzy resort that lives up to the hype. Perched over a glittering cove, this resort has 124 rooms and 16 suites in total, each individually designed with unique Sardinian art, textiles, and furniture. Featured in the 1977 James Bond movie, The Spy Who Loved Me, it lives up to a James Bond level of luxury. If you can splurge to stay at Cala di Volpe, for around $700 a night, you will feel like a real-life prince or princess – and you'll surely be treated like one too!
Make sure to also read my post The Best Hotels In Costa Smeralda.
Final Thoughts
Life's a beach, or so they say. If your soul is calling for a beach trip, there is no better place to be. Even if you're a history buff seeking archeological wonders, or a wine lover hunting down the most divine glass of wine, Costa Smeralda is ready to make your dreams come true.
I hope you enjoyed my Costa Smeralda guide! If you think I missed anything, don't hesitate to let me know in the comments below.
Further Readings
Make sure to read my other posts about Sardinia:
Pin It For Later!